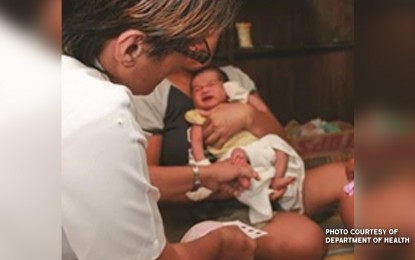 MALASIQUI, Pangasinan – The Philippine Statistics Authority (PSA) recorded 70,740 registered live births in the Ilocos Region last year, 10.5 percent lower than 79,008 in 2020.
In a virtual forum on Tuesday, La Union Civil Registration Services (CRS) outlet supervisor Joseph Estoesta said the figure is equivalent to eight babies being born per hour and 194 daily average birth occurrences in 2021.
Ten percent of the total number of live births in the region last year was in Ilocos Norte, 11.7 percent in Ilocos Sur, 14.8 percent in La Union, and 63.5 percent in Pangasinan, he said.
"The top five cities or municipalities with the most numbers of births in the region are Dagupan City, Pangasinan with 8,461; San Carlos City, Pangasinan with 7,125; Urdaneta City, Pangasinan with 5,753; San Fernando City, La Union with 4,866; and Alaminos City, Pangasinan with 4,014," he said.
Estoesta said 33 percent of newborns in 2021 were firstborns, 29 percent were second in birth order, and 18 percent were third in the order.
"Most of the mothers who gave birth were between 20 to 29 years of age. However, 9.2 percent of the mothers were between 15 to 19 years old," he said.
Of the total newborn in 2021, 40,251 were registered as legitimate while 30,489 were illegitimate children.
"Legitimacy is the status of a child born to parents who are married to each other at the time of birth," Estoesta said.
He said 60,345 or 85.3 percent of the total registered live births last year were attended by medical practitioners which may either be a physician or midwives or nurse, while the 10,275 or 15 percent were attended by hilot or unlicensed midwives.
Meanwhile, there were 16,915 marriages registered in 2021 in the Ilocos Region, 15.6 percent higher than the 14,636 marriages recorded in 2020.
Of the total number, 11 percent were in Ilocos Norte, 13 percent in Ilocos Sur, 16 percent in La Union, and 60 percent in Pangasinan, Estoesta said.
On the other hand, there were 53,897 deaths registered in Ilocos Region last year, 53.1 percent higher than the 35,204 in 2020. (PNA)