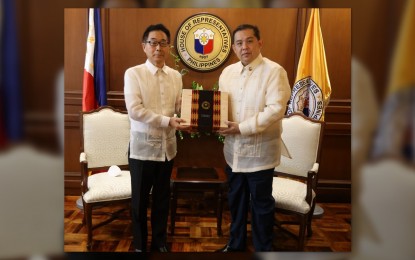 MANILA – Speaker Martin Romualdez on Tuesday said the House of Representatives would pursue strategic policy reforms to make the Philippines an attractive investment destination for Japanese investors.
Romualdez made this remark after Japanese Ambassador to the Philippines Koshikawa Kazuhiko paid a courtesy call at the House of Representatives.
"It's really great that Japan remains and has been one of the country's foremost trade, investment and development partner for a very long time. Through strategic policy reforms, we will improve the business climate in the Philippines to attract more direct investments from Japan," Romualdez said.
During their meeting, Romualdez and Koshikawa discussed the long-standing bilateral and inter-parliamentary relations between the Philippines and Japan and vowed to improve the two nations' bilateral ties and expand possible areas of cooperation.
Romualdez cited that in 2021, total trade with Japan amounted to USD21.83 billion, up by 17.1 percent from the 2020 figure of USD18.65 billion, making Japan the second largest trading partner of the Philippines in 2021.
Exports and imports were valued at USD10.73 billion and USD18.65 billion, respectively. Compared to 2020 levels, exports increased by 7 percent, while imports went up by 28.9 percent.
Romualdez also thanked the Japanese government through the Japan International Cooperation Agency (JICA) for the "immediate response in providing humanitarian assistance" to the Philippines following the recent earthquake in Northern Luzon.
"We deeply appreciate the aid provided and acknowledge the strong cooperation with Japan on humanitarian assistance and disaster response," he said.
He also extended his sincerest condolences on the passing of former Japan Prime Minister Shinzo Abe.
Abe passed away on July 8 at the age of 67. (PNA)