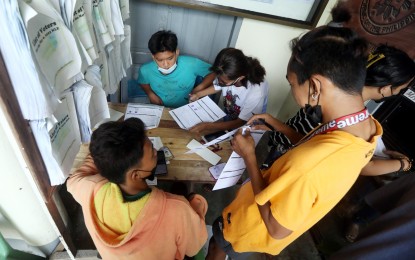 MANILA – Youth members of an election watchdog on Tuesday called on lawmakers to allow the Barangay and Sangguniang Kabataan Elections (BSKE) to push through as scheduled on Dec. 5.
In a position paper submitted to both the Senate and the House of Representatives, the youth members of the National Movement for Free Elections (Namfrel) said the forthcoming polls should not be postponed, as the country already needs a new set of youth leaders armed with fresh ideas and programs.
"Given that the last elections were held in 2018, hearing and heeding our choice, especially for us first-time SK voters, is overdue. Electing a new set of SK leaders will pave the way for potential modification or improvement of, or even entirely new youth programs under a new youth development plan. It is high time for us to elect those passionate in governance and in serving the public, who have new and innovative ideas drawn from our experiences in surviving the horrors of the Covid-19 (coronavirus disease 2019) pandemic," the group added.
They also said the time has come for voters to determine whether the incumbent village and youth officials have performed their duties.
"Three years are enough for the electorate to judge whether the incumbent officials performed their mandate. It is the voters' decision to either retain or replace the officials in power. Therefore, postponing the 2022 BSKE will deprive the electorate of this opportunity," the group said.
Also, they said that allowing the December polls as mandated by law will show that the national government supports the role of the young people in governance.
"To deprive us young voters of our opportunity to choose and to serve extinguishes our flaming desire to be involved and to play our role in our communities," Namfrel added.
Leyte 4th District Rep. Richard Gomez has filed a measure seeking to postpone the elections scheduled to a later date.
Senator Jinggoy Estrada also filed his version of the bill looking to move the next BSKE from December 5, 2022, to the first Monday of December 2023.
The Commission on Elections earlier said it hopes lawmakers will decide on the fate of the BSKE before the end of August. (PNA)