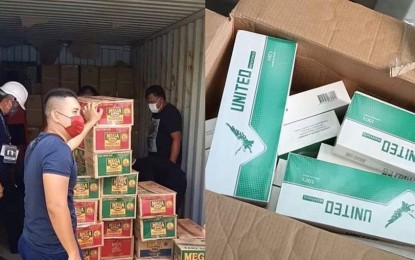 MANILA – The over PHP2 million smuggled cigarettes recently seized by the Philippine Coast Guard (PCG) are now under the custody of the Port of Cebu, the Bureau of Customs (BOC) reported on Tuesday.
In a statement, the bureau said the PCG turned over the contraband to the Port of Cebu on Aug. 3.
It added that 229 boxes of smuggled cigarettes were concealed inside 46 boxes of sardines and loaded on a wing van on board a ferry from Dapitan City, Zamboanga del Norte when it was intercepted by the PCG - District Central Visayas at Mainit Port in Oslob, Cebu on Aug. 1.
District Collector Charlito Martin Mendoza said the items were not declared in the bill of lading and no documents were presented to support the legitimacy of the transport of cigarettes.
Mendoza immediately issued a warrant of seizure and detention against the shipment of 229 boxes of 'United' cigarettes and 46 boxes of sardines.
The seized items will be disposed of accordingly after the seizure and forfeiture proceedings. (PNA)