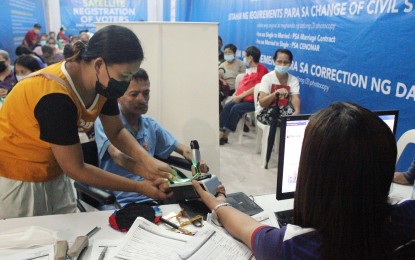 MANILA – Two senators on Tuesday asked their fellow lawmakers to prioritize the legislative action on proposed measures seeking to postpone the 2022 Barangay and Sangguniang Kabataan Elections (BSKE) slated for December 5.
Senator Ramon Revilla Jr. said it needs to be discussed as soon as possible so it can be decided if it should be postponed or will push through.
"Mahalaga na agarang matukoy kung itutuloy ba ito o hindi para hindi na umabot pa sa punto na masasayang lang ang paghahanda na gagawin ng Comelec [Commission on Elections] dahil lang huli na na-ipasa ang batas (It is important that we know if it we push it through or not so it will not come to a point where the preparations of the Comelec will go to waste because the law was passed late)," he said during the session.
Senator Jinggoy Estrada agreed by making an early manifestation, suggesting that since both he and Senator Francis Escudero filed bills postponing the BSKE, the chairpersons of the committees where the bills were referred should act on them immediately.
"If we approve of the postponement of the Barangay and SK Elections, then they will not prepare anything. But if we disapprove, if we continue to have the Barangay and SK Elections, then the Comelec has time to prepare," he said.
The bills were referred to the Committee on Electoral Reforms, chaired by Senator Imee Marcos who has contracted Covid-19.
Senate Majority Leader Joel Villanueva said Escudero's bill was likewise referred to the Committee on Local Government chaired by Senator JV Ejercito.
Senate President Juan Miguel Zubiri vowed to act on the bills at once, emphasizing that the budget to be used for the preparations of the SBKE, if postponed, can be saved and used for other government programs.
"The earlier that we can make a decision on it, the earlier we also save money from the National Treasury for other government programs. So, I support the move of Senator Jinggoy to discuss this as soon as possible," Zubiri said.
To date, the Comelec said the BSKE will proceed as scheduled. (PNA)