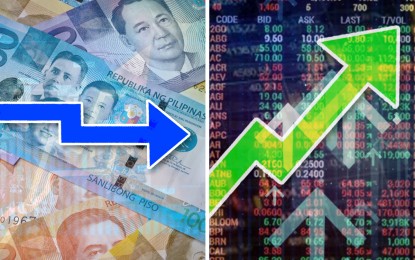 MANILA — The main stocks index rose anew on Tuesday as the domestic economy continued to show resilience following the release of the second-quarter economic growth but the peso finished sideways against the dollar.
The Philippine Stock Exchange index (PSEi) jumped by 0.54 percent, or 34.73 points, to 6,468.97 points.
All Shares also increased by 0.22 percent, or 7.71 points, to 3,456.44 points.
However, only two of the six sectoral gauges followed the main index namely Property and Holding Firms, which rose by 2.40 percent and 1.21 percent, respectively.
Financials fell by 1.14 percent and was trailed by Services, 0.40 percent; Industrial, 0.18 percent; and Mining and Oil, 0.09 percent.
Volume remained thin at 965.57 million shares amounting to PHP12.2 billion.
Advancers surpassed decliners at 112 to 82, while 42 shares were unchanged.
"Philippine shares continued to be bought up after the release of the 2Q GDP (gross domestic product), which showed the economy continuing to withstand the global turmoil, with the latest print at 7.4 percent," said Luis Limlingan, Regina Capital Development Corporation (RCDC) head of sales.
The latest output of the domestic economy is lower than the downwardly revised 8.2 percent in the previous quarter.
It brought the first half output to 7.8 percent, higher than the government's full-year target of between 6.5 to 7.5 percent.
Limlingan said risks to GDP growth in the second quarter of this year was due largely to "global inflationary pressures and importation cost."
On the external factors, he said investors are awaiting for the release of the US' July 2022 consumer price index (CPI) report and its impact on the future policy rate decisions of the Federal Reserve.
Meanwhile, the local currency finished the day at 55.595 against the US dollar, sideways from its 55.55 close a day ago.
It opened the day at 55.45 and traded between 55.66 and 55.4.
The average level for the day stood at 55.542.
Volume increased to USD 1.36 billion, higher than the USD886.97 million a day ago.
Rizal Commercial Banking Corporation (RCBC) chief economist Michael Ricafort, in a reply to questions from the Philippine News Agency, said the peso closed weaker for the second consecutive day but its close remains among its strongest "in more than a month after the new record trade deficit data and the slower-than-expected GDP growth data."
He said investors are also on a wait-and-see stance for the release of the US' July 2022 inflation report on August 10.
Ricafort forecasts the peso to trade between 55.50 and 55.70 to a greenback on Wednesday. (PNA)