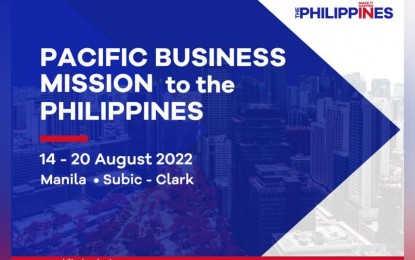 MANILA – An Australian business mission composed of 50 delegates will be visiting the Philippines next week to explore trade, tourism, and investment opportunities here, the Board of Investments (BOI) and the Philippine Economic Zone Authority (PEZA) said Tuesday.
The Australian business mission here, the first during the Marcos administration, will be held from August 14 to 20.
Aside from business opportunities, the delegation aims to build ties with key government agencies and the private sector.
Among the activities of the Australian business delegation will include investment briefings, business-to-business meetings, and a visit to economic zones in Clark, Bataan, and Subic.
The delegates are from sectors of renewable energy, manufacturing, mining, tourism, education, and information technology and business process management (IT-BPM).
The delegation will be led by Philippine Ambassador to Australia Ma. Hellen De La Vega.
According to PEZA, the agency will be meeting the business delegation on August 16.
"This upcoming business mission in the Philippines sets a stronger investment footing and camaraderie which shall further enhance economic ties between our two countries," PEZA officer-in-charge Tereso Panga said in a statement.
PEZA data showed that there are 141 PEZA-registered companies from Australia and New Zealand as of June 2022.
Their total investments amounted to PHP14.64 billion, contributing USD374. 57 million in exports, and generated 44,424 direct jobs. (PNA)