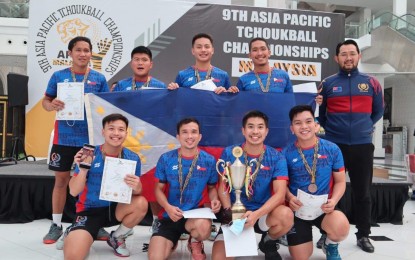 BACOLOD CITY – The Bacolod-based Philippine Men's Tchoukball Team has booked another trip to the World Tchoukball Championships (WTC) 2023 after finishing third in the just-concluded Asia-Pacific Tchoukball Championships in Johor, Malaysia.
Tchoukball Association of the Philippines (TAP) president Raymund Jamelo said on Tuesday the Philippines, being among the top four finishers, once again qualified for next year's WTC, the venue of which has yet to be announced.
"I'm so proud of the Philippine Team. Although this is not a ragtag team since majority of them were already former players of the national team. We just infused new members," Jamelo said in an interview.
It will be the third time for the Philippines, World No. 9, to see action in the WTC after their previous participation in Taiwan and Malaysia.
On August 7, the Philippines, mentored by playing coach John Elray Jamelo, defeated Thailand to settle for a second runner-up finish in Johor. In the semifinals, the Filipinos succumbed to World No. 3 Singapore, which bowed to eventual champions World No. 1 Chinese Taipei.
During the preliminaries, the Philippines prevailed over Malaysia, Sri Lanka, and Hong Kong.
The Asia-Pacific championship was the country's first international tchoukball tournament after almost three years amid the pandemic.
Aside from John Elray Jamelo, Team Philippines includes Judel Lacson, Herbert Aujero, Shem Kelly Palcat, Roelle Chapa, Frank Lobaton, Joel Su, and Jet Ho.
They were joined by international referee Corinth Chua-Jamelo.
Jamelo added that after the pandemic halted tournaments in the country in the past two years, the TAP continues to push for tchoukball to continue and be revived in local clubs and schools.
"Tchoukball in the Philippines has been gaining ground. We look forward to picking up where we left off, restart. Now, here we are," he added.
The TAP president said he hopes the Philippines' achievement in the Asia-Pacific tournament would inspire athletes and coaches to restart their tchoukball programs.
"We encourage them to activate their clubs. The model here is Negros and Bacolod, where (we) have close to 20 clubs. We have already initiated the Bacolod Open tournament," Jamelo said.
A non-contact team sport, tchoukball was introduced in the 1960s by Swiss biologist Dr. Hermann Brandt. Its non-contact nature aims to minimize the risk of serious injuries.
A match, usually played on an indoor court, involves two teams with seven players each.
At the end of each court is a "rebound frame", from which the attacking player must bounce the ball.
After the ball hits the surface, it must touch the floor outside the forbidden zone to score a point. (PNA)