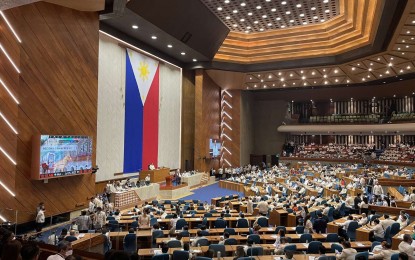 MANILA – The House of Representatives on Tuesday created a special committee that will be tasked to tackle policies and programs relating to the production, utilization, and conservation of nuclear energy.
During the plenary session, Senior Deputy Majority Leader Sandro Marcos made the motion to create the Special Committee on Nuclear Energy.
The panel, composed of 25 members, will be led by Pangasinan Rep. Mark Cojuangco.
The committee will also focus on the development of nuclear power infrastructure, as well as the interaction of other energy sources with nuclear energy as a reliable, cost-competitive, and environment-friendly energy source to ensure energy security consistent with the national interest and the State's policy of freedom from nuclear weapons.
In his manifestation, Cojuangco explained that nuclear energy is an energy source that is cheap, clean, and reliable, regardless of weather conditions.
He assured that his committee would do its part in informing the public on the efficiency and benefits of nuclear energy, as well as in crafting measures that could provide for the construction of nuclear power plants in the country.
Meanwhile, the House amended the jurisdiction of the Committee on Energy, to read, "All matters directly and principally relating to the exploration, development, utilization or conservation of energy resources, including the development and utilization of alternative and renewable energy sources and the entities involved in energy or power generation, transmission, distribution, and supply, excluding nuclear energy and its sources and infrastructures."
The creation of the special committee is in line with President Ferdinand Marcos Jr.'s agenda of building new power plants in the next six years of his administration.
In his State of the Nation Address in July, Marcos reiterated his earlier position that it is time to re-examine the government's strategy toward building nuclear power plants in the Philippines.
"In the area of nuclear power, there have been new technologies developed that allow smaller scale modular nuclear plants and other derivations thereof," he said.
"We will comply, of course, with the International Atomic Energy Agency (IAEA) regulations for nuclear power plants as they have been strengthened after Fukushima." (PNA)