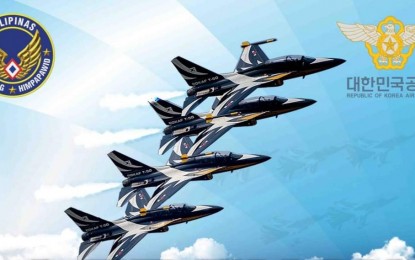 MANILA – The Republic of Korea Air Force's (ROKAF) 53rd Air Demonstration Group, also known as the "Black Eagles", will be performing over the Basa Air Base, Floridablanca, Pampanga on August 15, highlighting the strong relations between the Philippines and South Korea.
In an interview Wednesday, Philippine Air Force (PAF) spokesperson Col. Maynard Mariano said eight T-50Bs, the aerobatic version of the Mach 1.5 capable FA-50PH, would be treating Filipino air enthusiasts with their maneuvers over the skies of Basa Air Base.
"Team composition will be eight T-50(B)s. They will be doing their repertoire. Exactly what it is, we just have to watch. The airshow highlights the strong partnership between the Philippines and South Korea. Their visit here is the last leg of the 'Black Eagles' before going home," he said.
The team has been performing over the skies of the United Kingdom, Poland, and Egypt as part of their world tour this year.
The "Black Eagles" permanent team was formed on Dec. 12, 1994, and flew six Cessna A-37B Dragonfly airplanes.
The team disbanded temporarily after the 2007 Seoul Air Show and reformed upon the arrival of their new T-50B in 2010.
Ties between the Philippines and South Korea have been good since Manila deployed a sizable contingent to help Seoul in the Korean War from 1950 to 1953.
The South Korean air force's aerobatics team will hold a final rehearsal on Saturday ahead of the actual airshow.
Both the rehearsal and actual air show can be watched online via the PAF and 5th Fighter Wing Facebook pages.
"As much as the PAF wants to accommodate everyone inside Basa Air Base for this event, the maximum capacity that the Base can handle has been met considering the safety and health protocol to prevent the spread of Covid-19 (coronavirus disease 2019) and other rainy season infections; therefore, we invite everybody to watch the airshow via live streaming to be posted at the Philippine Air Force and 5th Fighter Wing official Facebook pages," the PAF said in its Facebook page. (PNA)