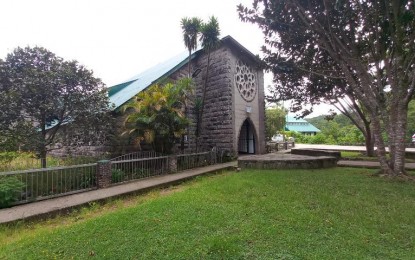 BAGUIO CITY – The local government of Sagada said it has decided to lift all requirements for tourists that were put in place when the town reopened its doors in 2021 after the nationwide lockdown due to the pandemic.
"We have suspended the requirement so that the tourists will not have an additional expense to think of," Sagada Mayor Felicito Dula said in a press conference in the late Tuesday here.
He said that the registration and requirement of test results including the proof of full vaccination are no longer asked from visitors going to Sagada.
The payment of the management fee has also been suspended by the local legislative council to entice tourists to visit Sagada.
The town, which is highly dependent on tourism with most of the residents directly or indirectly engaged in the industry, was greatly affected by the pandemic that led to the lockdown.
"Almost two years in the pandemic before we opened, we were financially hard-up," the mayor said. "The inns and hotels had no income because there were no guests, the tour guides had nobody to bring around, the restaurants, eateries, the village stores, market, and even shops had no sales without the tourists buying and with only the residents who also did not have spare cash to spend."
Without the tourists, the town no longer benefits from the PHP100 environmental fee that tourists are required to pay.
Before the pandemic, an average of 160 tourists visit Sagada daily. And with each tourist spending an average of PHP2,500 daily -- using the tourism department's computation -- a minimum of PHP400,000 circulates in Sagada every day, creating a domino effect on the town and the people's economic condition.
The mayor said, "We are starting to promote Sagada again because we want our town to recover from the effect of the pandemic."
Activities and destinations that have reopened to the public include the Eco Valley, Bomod-ok Falls, the hanging coffins, and Marlboro Blue Soil.
"We are waiting for a go signal from the disaster management office if it will already allow entry into the caves because there are still aftershocks happening," Dula said.
For tourists going to Sagada from Baguio and vice versa, there are three Lizardo bus line trips daily aside from vans.
Coming from Metro Manila, the Coda bus lines has three units that bring travelers to Sagada.
"We are offering better service because when there were no tourists, the establishments took advantage and allowed their people to be trained," the mayor said. (PNA)

WELCOME BACK. The St. Mary's Church, a famous tourist spot in Sagada, shown in this photo taken on July 2022. Sagada Mayor Felicito Dula, at a press conference Tuesday (Aug. 9, 2022) in Baguio City, said the municipal government has eased travel restrictions to their town to attract more tourists. (PNA photo by Liza T. Agoot)