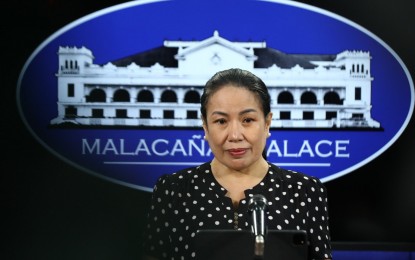 MANILA – The Office of the Press Secretary (OPS) is prioritizing the granting of interviews to government media under the administration of President Ferdinand "Bongbong" Marcos Jr.
Press Secretary Trixie Cruz-Angeles said this is her agency's "standout policy" since Marcos assumed office.
"Under the single messaging policy for President and, we also give a premium to government media first," she said in an interview over state-run Radyo Pilipinas on Wednesday.
Cruz-Angeles said private media will also be accommodated, but state media will be given "a premium first."
"Although napagbigyan naman natin iyong iba (we grant interviews to other media outlets), there are some stations that we allowed interviews, we usually give a premium first to our government station" she added.
In July, Marcos ordered the abolition of the Presidential Communications Operations Office (PCOO) and the restoration of the OPS, an agency PCOO superseded 12 years ago, through Executive Order (EO) No. 2.
Under the EO, OPS has the authority to "pronounce, on behalf of the President, matters pertaining to his actions, policies, programs, official activities, and accomplishments."
It is also tasked to develop and implement necessary guidelines and mechanisms pertaining to the delivery and dissemination of information on policies, programs, official activities, and achievements of the President and the Executive Branch.
The OPS currently supervises the operations of state-run TV stations PTV-4 and IBC-13, radio station Radyo Pilipinas, and the Philippine News Agency (PNA).
Radio Television Malacañang (RTVM) is now controlled by the Presidential Management Staff (PMS) while the Philippine Information Agency (PIA) has gone back under the supervision of the Office of the President (OP).
First 100 days
Meanwhile, Cruz-Angeles said the OPS is preparing for the release of an accomplishment report on the first 100 days of the Marcos administration.
"Primarily that we coordinate with the other departments and agencies for single messaging," she said.
In a 2022 PAHAYAG Second Quarter Survey (2022 PQ2) from June 16 to 22, 68 percent of respondents said they expect Marcos to perform "well" or "very well" during his first 100 days as president.
At least 14 percent said they expect him to perform "poorly" or "very poorly" while 11 percent said they expect the incoming president to perform "neither poorly nor well" and 7 percent were unsure.
Survey respondents were also asked to select and rank the three most important issues that the next President should focus on with 73 percent of respondents choosing the Philippine economy as one of their top three issues, 42 percent ranking the economy as the number one issue for the next president to address, and 53 percent of respondents selecting jobs as a top-three issue, while 32 percent chose education.
The 1,500 Filipino respondents who participated in the 2022 PAHAYAG Second Quarter Survey were randomly sampled from their national panel of more than 200,000 Filipinos with a sample-wide margin of error is +/- 3 percent. (PNA)