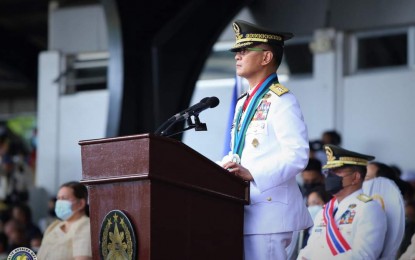 MANILA – Newly-appointed Armed Forces of the Philippines (AFP) chief-of-staff Lt. Gen. Bartolome Vicente Bacarro has ordered all military commanders to increase their operational tempo to defeat the remaining communist insurgents in the country.
Bacarro issued this order during his first command conference as military chief on Wednesday, AFP acting spokesperson Col. Medel Aguilar said in an interview with reporters.
While there is no set timeline to do the measure, Bacarro said there is an "urgency of completing the task".
"That is why ang kanyang (his) instruction is to increase yung (the) operational tempo so that we can defeat the armed (communist) group, so kung pwede nga sana tapusin ito kaagad agad, yun ang (if it is possible to complete this task immediately, that is the) objective, but we also understand that insurgency is multi-faceted," Aguilar said.
Aguilar said increasing the operational tempo does not mean the deployment of additional forces in rebel-infested areas but just maximizing the use of all available forces.
When asked how many New People's Army (NPA) insurgents or fighters are still remaining, Medel said that more than 2,000 are still active.
"Nasabi na naman to dati na more than 2,000 na lang sila (We have earlier mentioned that they (NPA) number to just more than 2,000)," he added.
The AFP spokesperson also expressed hope that the NPAs, during Bacarro's three-year term, could be totally defeated provided that the momentum established during past operations are maintained.
He also added that the AFP is providing information to other government agencies on the nature of the insurgency threat and recruitment so that they can take appropriate action from their end.
The AFP earlier said that during the tenure of Bacarro's predecessor Gen. Andres Centino, the military neutralized 1,391 communist and local terrorist personalities.
"The AFP was also instrumental in deradicalizing over 3,000 communist terrorists, dismantling 20 guerrilla fronts, recovering 1,600 firearms, and clearing 565 barangays," it added.
The Communist Party of the Philippines (CPP)-NPA is listed as a terrorist organization by the United States, the European Union, the United Kingdom, Australia, Canada, New Zealand, and the Philippines.
The Anti-Terrorism Council has also formally designated the National Democratic Front as a terrorist organization on June 23, 2021, citing it as "an integral and inseparable part" of the CPP-NPA that was created in April 1973. (PNA)