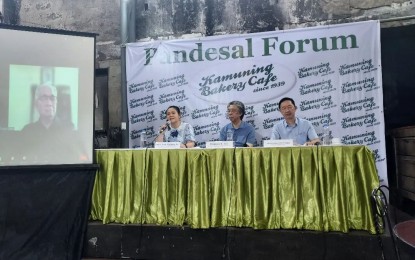 MANILA – It would be best for the Philippines to take a neutral stance on the Taiwan Strait crisis, a geopolitics and political analyst said Wednesday, following China's aggressive actions in the wake of United States (US) House Speaker Nancy Pelosi's recent visit to Taipei.
Asian Century Philippines Strategic Studies Institute vice president for external affairs Anna Rosario Malindog-Uy said the Philippines, "as much as possible," should not get involved in the brewing tensions in the Taiwan Strait.
"With regard to the Philippines, our own country, I think really the best position for us is to be neutral," Malindog-Uy said during the Pandesal Forum hosted by Kamuning Bakery Cafe in Quezon City.
China has conducted military exercises near Taiwan and halted defense and climate change cooperation with the US, in retaliation to Peloso's recent visit to Taipei.
Stressing that the Philippines "has no enemies," Malindog-Uy said the country "should not create one at all costs."
She also advised the Philippine government to adhere to the "One China" principle that Beijing follows.
"These are affairs of China, these are considered internal affairs of China. We should not meddle in these affairs and we should stick to the One China principle as much as possible because that is one of the foundations of our bilateral relations with China," she said.
Under the policy, Beijing's position is that there is only one Chinese government and Taiwan is part of China.
Malindog-Uy said it is better for the Philippines not to take sides in the latest developments in the Taiwan Strait.
"Our relations with each country should be based on our national interests and should be based on what's good for the country and not for the benefit of other countries at our expense," Malindog-Uy said. "As a country, we should uphold our national interests and not be dragged into any conflict, not our own making is I guess not part of our national interests."
She added that President Ferdinand "Bongbong" Marcos Jr.'s administration must emphasize that the Philippines continues to be a "friend" of both China and the US.
"The Philippines is a friend of China and the US. US enemies or adversaries are not the country's enemies/adversaries and this must be emphasized by the current administration under the leadership of President Ferdinand Marcos Jr.," Malindog-Uy said.
'Manageable' tensions
Despite China's military drills near Taiwan, journalist Benjamin Lim said the tensions between the two countries are still "manageable."
"I don't think there will be war in the near future. I don't think war is going to be -- or full-scale war is around the corner. But of course, we cannot rule our mishaps and miscalculations," Lim said.
Lim believed that China wants to "win without fighting."
Bobby Tuazon, director for policy studies of Center for People Empowerment in Governance, agreed that China does not want to go to war.
"Over the next few weeks or months, China will not go on a full scale war against Taiwan. But at the proper moment, China can launch a hybrid military action. I don't call it war. [I call it] a hybrid military action or a special military action. What do I mean by that? China is now testing its capability, that's why it is doing exercises, live exercises right now," he said.
Tuazon said China would only resort to a "hybrid, special" military action, noting that Beijing has the capability to "isolate Taiwan from an international shipping, possibly even to bleed Taiwan economically."
Such move would compel Taiwan to "take the right step toward reunification with mainland China," he said.
"They (China) can do that. I call that a hybrid type of special military action. If they keep on doing this, the effect of that is some kind of a naval blockade on Taiwan," Tuazon said.
Review of defense deals with US
Meantime, Malindog-Uy and Tuazon also hoped that the Marcos administration would review the defense pacts between the Philippines and the US.
This, as they said the Manila-Washington defense deals such as the 1951 Mutual Defense Treaty (MDT), the 1998 Visiting Forces Agreement (VFA), and the 2014 Enhanced Defense Cooperation Agreement (EDCA) hinder the Philippines from asserting its independent foreign policy.
"It is the best time. The Philippines cannot act on the basis of its national interest because the hands of the government are tied to these defense agreements. So, it cannot act independently. It cannot assert an independent foreign policy because of this obstacle to our national interest," Tuazon said.
Malindog-Uy also said an "intellectual" discussion about MDT, VFA, and EDCA would enable the country to have an "authentic" independent foreign policy.
"More importantly, maintaining the VFA, EDCA, or even the MDT in its original texts is an anti-thesis in the pursuit of a genuine independent foreign policy and non-aligned stance of the country. The Philippines must pursue an independent foreign policy that upholds and prioritizes its national interests and not those of other countries," she said. (PNA)