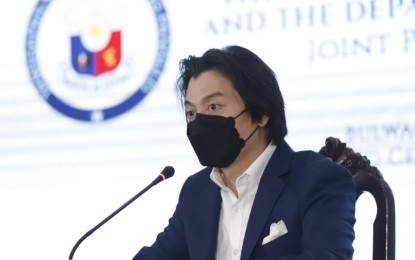 MANILA – The Department of Education (DepEd) on Wednesday assured the public that schools are expected to have an infection control plan or strategy for the opening of in-person classes this month, considering the possible surge of cases of the coronavirus disease 2019 (Covid-19).
The DepEd made the statement in a press briefing in response to the Octa Research Group's pronouncement that there may be a possible case uptick once the in-person classes resume.
"We take the Octa Research seriously as guidance. However, we look also on the study of [the United Nations Children's Fund]. There's actually no direct correlation between in-person classes and transmission, as long as the minimum safety standards are observed, most particularly the wearing of face mask. That is important)," Education spokesperson Michael Poa said.
Poa noted that under DepEd Order 34, schools are required to have an "infection containment" strategy.
"'That's what we are hoping to see, what we call infection containment plan or strategy that the schools will implement. For instance, what are their plans if someone tests positive in school? Will they contain it? Will they suspend that particular class or the entire school? So that's something we will require from them and our field offices will be monitoring to ensure that's in place for each school," he said.
No discrimination
The DepEd, meanwhile, assured the public it is coordinating with the Department of Health to promote the government's vaccination campaign, as well as counseling that will be launched per region.
The education department maintained its stance that the vaccination remains voluntary and that no one will be discriminated against, especially since they are pushing for the face-to-face setup, to address the learning loss.
"There will be no discrimination. So this year, whether vaccinated or unvaccinated, the teachers, the non-teaching staff, and the learners, all of them can go to school and teachers can conduct classes)," he said.
As of Wednesday, there are over 17.9 million enrolled learners nationwide for the upcoming school year.
The DepEd has also confirmed that the budget for the construction of temporary learning spaces in quake-affected areas has already been downloaded.
Poa said the cost needed to build each temporary walled and roofed learning space is PHP180,000.
He said they are also conducting a mapping of affected areas to identify students who need additional learning materials like books. (PNA)