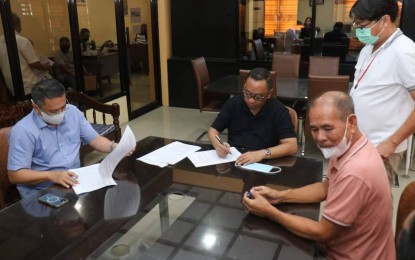 SAN JOSE DE BUENAVISTA, Antique – Antique's capital town is optimistic that the new call center to open within the next two months here will provide employment to the residents and business opportunities to small entrepreneurs.
San Jose de Buenavista Municipal Economic Enterprise and Development Officer (MEEDO) Darcy Bungay said in an interview Wednesday that the IXL Solutions Philippines with up to 150 seats will be the second biggest call center that would open in the municipality.
The company is also present in Iloilo City and Manila.
"San Jose de Buenavista Mayor Elmer Untaran would like to invite investors that could help generate employment for the local residents and help beef up our economy," he said.
Schools like Saint Anthony's College and Advance Central College situated in the municipality are producing graduates who are proficient in English proficiency and could be employed at the call center, he added.
Untaran and call center chief executive officer Addrian Funtelar signed a contract of lease on Aug. 8 for the 480-sq m office space that will be occupied by the investor on the second floor of the San Jose de Buenavista Business Park.
Currently around six call centers are operating in the municipality with Savant Tecnologies, Inc. with 500 seats as the biggest while other call centers have about 50 seats.
"The presence of the call centers could also provide indirect income to our municipality because the employees would be spending their salaries to buy their food and other needs right here" and since they operate 24 hours, the workers will provide business to local entrepreneurs. (PNA)