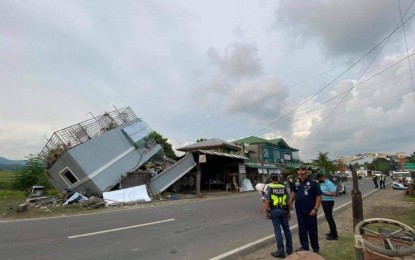 MANILA – Taiwan donated on Wednesday USD200,000 (approximately PHP11 million) to support the victims of the magnitude 7 earthquake that rocked Abra and other nearby provinces last month.
The Taipei Economic and Cultural Office in the Philippines (TECO) turned over the donation to Manila Economic and Cultural Office (MECO) chair Silvestre Bello III, with Abra Governor Dominic Valera present as a witness.
TECO Representative Peiyung Hsu expressed the Taiwanese people's condolences and sympathies to the victims.
"[W]hen the earthquake happened in the province of Abra, the people in Taiwan did not only had our sympathy but we know the pains (the victims had) because we also suffer from earthquakes," Hsu said.
"We decided to make donations in cash and we hope to see the people in the province of Abra and Cordillera have their life back as soon as possible," he added.
The magnitude 7 quake hit several provinces in Northern Luzon last July 27, damaging structures and killing 11 people.
Based on the latest report from the National Disaster Risk Reduction and Management Council (NDRRMC), the tremors affected a total of 513,330 people and displaced more than 15,000 families in Ilocos Region, Cagayan Region, and the Cordillera Administrative Region. (PNA)