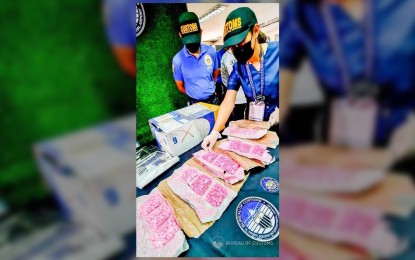 MANILA – Bureau of Customs (BOC) officials at the Ninoy Aquino International Airport (NAIA) on Thursday intercepted three parcels containing PHP14.7 million worth of illegal drugs.
In a statement, the Port of NAIA said it discovered 300 grams of shabu worth PHP2.04 million concealed inside an outbound shipment containing wall stickers at a warehouse in Pasay City.
The shipment was subjected to X-ray inspection which later showed white crystalline substances.
Meanwhile, two other inbound parcels containing ecstasy tablets hidden inside cartons and bed sheets were discovered at the Central Mail Exchange Center (CMEC) also in Pasay City.
The first shipment which was declared as women and infant clothes was confirmed to contain ecstasy tablets worth PHP8.9 million while the other shipment, which was undeclared, was also confirmed to contain another PHP3.8 million worth of ecstasy tablets.
Port of NAIA District Collector Carmelita Talusan said further investigation is underway to arrest those behind the illegal trade for possible violation of Republic Act (RA) 9165 or the Comprehensive Dangerous Drugs Act of 2002 and RA 10863 or the Customs Modernization And Tariff Act (CMTA).
Meanwhile, the BOC-Port of Subic reported the seizure of another container of smuggled cigarettes from Singapore valued worth PHP46.28 million on August 4.
A total of 1,122 master cases of Marvel's Filter Cigarettes declared as fabrics were discovered upon physical examination.
Further investigation showed that the consignee, Proline Logistics Philippines Inc., was not a registered SBMA locator of foreign cigarettes and tobacco products.
It was also not included in the Bureau of Internal Revenue (BIR) list of registered importers of cigarette brands.
Port of Subic District Collector Maritess Martin issued a warrant of seizure and detention against the shipment for violation of National Tobacco Administration (NTA) Memorandum Circular No. 03 and Republic Act No. 10863, or the Customs Modernization Tariff Act.
Last month, the Port of Subic seized two shipments amounting to PHP84.97 million from the same consignee. (PNA)