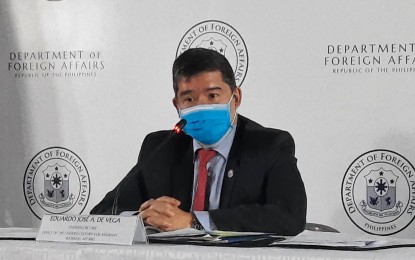 MANILA – A contingency plan to ensure the safety of overseas Filipino workers (OFWs) in Taiwan is in place, the Department of Foreign Affairs (DFA) said Thursday.
In a press briefing, Foreign Affairs Undersecretary for Migrant Workers Affairs Eduardo Jose de Vega said the Manila Economic and Cultural Office (MECO) would implement this plan if necessary.
"The truth is, there are always contingency plans in place, not just in China, or the Cross-Strait, but anywhere in the world. They have contingency plans in place for any kind of disaster," he said.
"Of course, there is the Manila Economic Cultural Office -- it's not a DFA office, we don't have diplomats there. They respond to the Office of the President-- but similar to our missions in mainland China and the rest of the world, they are in fact in touch with employers, with local companies and Filipino community leaders to implement the strategic plans in case they are necessary," he added.
READ: Senators call on gov't to ensure safety of OFWs in Taiwan
As a diplomat, de Vega hoped that diplomacy and dialogue would prevail.
To date, there are almost 200,000 Filipinos living and working in Taiwan, according to MECO.
The Chinese People's Liberation Army on Wednesday halted its military drills in the waters and airspace around Taiwan, saying it had accomplished all of its tasks.
The Chinese military force, however, said it would continue its security patrol in the Taiwan Strait to "defend China's sovereignty and territorial integrity."
The exercises began on August 2 following the controversial Taiwan trip of US House Speaker Nancy Pelosi. (PNA)