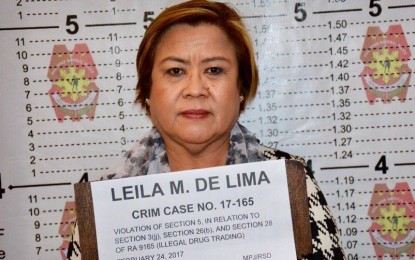 MANILA – The Department of Justice (DOJ) on Thursday maintained it sees no inconsistencies between the recent decision of the Office of the Ombudsman to dismiss the bribery cases against former senator Leila de Lima, and the drug charges against her before the Muntinlupa court.
"Basically, we are saying that the resolution of OMB (dismissing the bribery charges) was expected. We do not think, however, that it will have any bearing on the drug trading charges in court," DOJ spokesman Mico Clavano told reporters.
Clavano said Prosecutor-General Benedicto Malcontento wrote a memorandum to DOJ Secretary Jesus Crispin Remulla stating and describing the consistency of the DOJ resolution dated Feb. 14, 2017 and the recent resolution of the Ombudsman dated July 22, 2022.
"We've been reviewing the records and they seem to be in order but if you can point out something, we can look further into that," he said.
Even in the 2017 DOJ resolution, Clavano said the prosecution panel did not consider the testimony of Kerwin Espinosa as there was no corroborating evidence to support his allegation that he delivered PHP8 million to the former senator for future protection.
Therefore, it was clear to the DOJ panel of prosecutors that Espinosa's confession on the allegation of payment for protection was not convincing, he said.
"Let it be clear that these cases pertain to the bribery charges against former senator de Lima. What is before the Muntinlupa courts are the drug trade charges which have completely different elements to be proven than that of bribery," the DOJ said.
"The Department would like to reiterate and point out that we are consistent with the recent resolution of the Ombudsman. In fact, our resolution in 2017 comes way ahead," it said.
In its 2017 resolution dismissing the bribery complaints to focus on the drug charges, the prosecutors cited that from the extra-judicial confession of Rolan Espinosa a.k.a Kerwin a.k.a. Batman, he allegedly gave PHP8 million to de Lima, through her driver Rollie Dayan, on four different occasions for his interest in having a senator as protector of his drug business.
"Clearly, the PHP8 million was an advance payment given by Kerwin to de Lima in exchange for future protection which never happened. Although de Lima won as a senator during the May 2016 elections nonetheless, Kerwin fled the country before she assumed her post in July 1, 2016. Hence, it cannot be said that Kerwin or his illegal drug business ever received protection from de Lima," the 2017 ruling said.
Neither can Kerwin be charged on the basis of his extra-judicial confession absent of any independent corroborating evidence, the DOJ said at the time. (PNA)