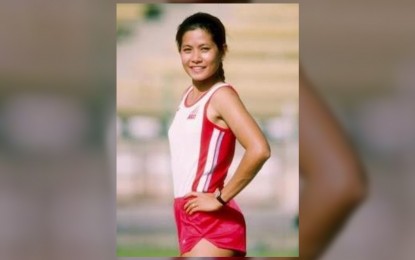 MANILA – Lawmakers in the House of Representatives and Senate are mourning the death of former Asia's sprint queen Lydia de Vega-Mercado, who died on Wednesday at the age of 57.
Speaker Martin Romualdez remembered De Vega-Mercado as one of the "greatest" and the "most decorated" Filipino athletes.
"She brought honor and pride to our country by winning numerous medals in the Southeast Asian Games, Asian Games and Asian Athletics Championships. She was called Asia's fastest woman after ruling the 100-meter dash in the 1982 and 1986 Asian Games," Romualdez said.
Romualdez said De Vega-Mercado's death highlights the need for the government and the private sector to support Filipino athletes not only while they are healthy and physically able to compete but in retirement as well.
"Our prayers and thoughts are with Lydia de Vega's family at this most difficult time," he added.
Senior Deputy Speaker Gloria Macapagal Arroyo said De Vega-Mercado put Philippine sports on the world map and brought much honor to the country as she was dubbed as the "fastest woman in Asia".
"Lydia 'Diay' de Vega-Mercado's demise is a big loss to us... She will long be remembered by the nation. May her achievements motivate other Filipino athletes to aspire for excellence in their chosen sport. My sincere condolences to her husband, Paul, and their children," Arroyo said.
'Legacy of greatness will live on'
Cavite Rep. Elpidio Barzaga Jr. said De Vega-Mercado paved the way for Filipino women athletes to achieve glory in sports, including Olympic champion Hidilyn Diaz.
"Lydia de Vega was among the first modern sports heroes that Filipinos looked up to. We basked in the pride that she gave us with her achievements as the 'sprint queen' of Asia. Her legacy of greatness will live on," Barzaga said.
PBA party-list Rep. Margarita Nograles said she is saddened by the death of De Vega-Mercado, whom she considered as "one of our first female heroes".
Nograles is looking into ways to support both current and past Olympians, as she recalled that De Vega's family had to publicly ask for financial help to the sports legend, who suffered complications brought by Stage 4 breast cancer.
"Ang nakakalungkot po talaga ay sa mga huling araw niya ay humingi siya ng financial help sa public dahil kulang po ng mga programs to support and give retirement benefits sa ating past Olympians (What's really saddening is that in her final days, she was asking financial help from the public because the programs to support and give retirement benefits to our past Olympians are not enough)," Nograles said.
ACT-CIS Party-list Rep. Jocelyn Tulfo said De Vega-Mercado's "invaluable contributions" to Philippine sports would "undoubtedly live on" for future generations and will inspire other Filipino athletes to strive for excellence.
"Our country mourns the loss of one of our treasured and most decorated Philippine athletes, Ms. Lydia de Vega-Mercado. My family and I are very saddened by this news and offer our sincerest condolences to the family and friends of Ms. De Vega. Her achievements as an athlete, brought honor and pride to our country, with her dedication and commitment touching the hearts of every Filipino," Tulfo said.
Pinuno Party-list Rep. Howard Guintu said the longevity of De Vega-Mercado's records makes her "arguably the best sprinter" the Philippines has ever produced.
Guintu noted that de Vega held seven Philippine records, including her 100-meter (m) and 60m dash records, which both remained unbroken for 33 years, from 1987 to 2020 and 1988 to 2021, respectively.
She also held the national 200m record for 32 years, from 1987 to 2019. In 1984, she became the country's first woman to run and compete in the Olympics.
"For those of us who grew up in the '80s and '90s, Lydia de Vega was a household name. She was an icon and a legend in Philippine athletics and her passing is a tremendous loss to the country," Guintu said. "Lydia may have gone but her legacy in the track as Asia's sprint queen will forever live on."
True Asian track and field legend
A Senate resolution was filed on Thursday expressing the senators' deepest sympathy and sincere condolences to the family of "a true Asian track and field legend."
Senator Ramon Bong Revilla Jr. said his Senate Resolution No. (SRN) 127 aims to honor the life and legacy of one of the greatest athletes whose indelible mark will forever be etched in history.
"Lydia is truly a true Asian track and field legend -- who has excellently personified the admirable traits of a Filipina -- passionate, determined, disciplined, and stunningly graceful in all her endeavors," Revilla's resolution read.
De Vegas' achievements, Revilla said, do not only serve as an honor to the country but also shone a light of inspiration to generations upon generations of aspiring and promising Filipino athletes.
"The pursuit of excellence exemplified by the life she lived will always be discussed in physical education classes; will always be recognized in the sports community. Her story of success will always reverberate in people's memories," he said.
Senator Robin Padilla said the honor and pride that De Vega has brought to the Filipino people since the 1980s will not be forgotten.
"Dahil sa kanya, naging kahanga-hanga ang Pilipinas sa ating karatig bansa (Because of her, the Philippines was admired by other countries)," Padilla said in a statement.
Senator Sherwin Gatchalian recalled that throughout De Vega's career, she not only ruled the race tracks but also won the hearts of Filipinos for her world-class talent which rallied the country to a great sense of national pride and honor.
"I would also like to honor the memory of Lydia de Vega as a role model to a younger generation of Filipino athletes, especially the young women who are bent on breaking both barriers and records to uplift our country's spirit," Gatchalian said.
Senate Majority Leader Joel Villanueva was also saddened when he heard about the passing of his fellow "Bulakenyo".
He said De Vega was his inspiration to represent the country in international competitions in the field of basketball.
Senator Lito Lapi said though De Vega succumbed to breast cancer, her legacy as one of the country's best athletes will be remembered forever.
Senator Risa Hontiveros said the "track titan" left an everlasting international legacy and the impact of her spirit cements her as one of the country's best athletes.
"As an elite athlete and 2-time Olympian, her feet were magical when she ran track. As a coach and mentor, her competitive spirit inspired many Filipinos wanting to be their best," she said.
She said De Vega's brilliance has encouraged many women and young girls to reach their potentials and "continue her legacy -- to win, to take space, and to keep coming back for more.
"Truly, Lydia de Vega lived the life of a true legend: showing the world how to be a champion in athletics and a hero to others beyond the world of sports. We share the grief of the nation and offer our sympathies to all her family and friends," Hontiveros said. (PNA)