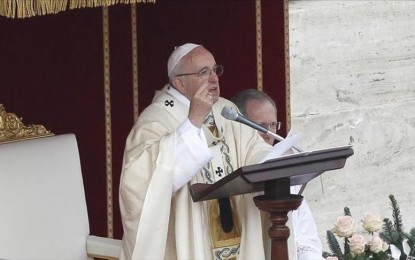 MANILA – An official of the Catholic Bishops' Conference of the Philippines (CBCP) on Thursday said the talks about who will be the next pope are very untimely.
In an interview, CBCP Permanent Committee on Public Affairs (PCPA) executive secretary Fr. Jerome Secillano said discussing the matter is still premature as Pope Francis is still at the peak of his career as the head of the Roman Catholic Church.
"Pope Francis continues to be at the helm of the papacy and shows no indication of cutting short his tenure. All this talk about his possible resignation is basically just a media narrative meant to politicize an otherwise sacred election called the conclave," he added.
At the same time, Secillano asked the faithful to pray for the leadership of Pope Francis to be able to face all challenges.
"Let's just pray for Pope Francis and all his collaborators that they may stir the Catholic Church in the right direction as the church continues to face scrutiny and challenges at the moment," he said.
This came as former Manila archbishop Luis Antonio Cardinal Tagle, who is now the Vatican's Prefect of the Congregation for the Evangelization of Peoples was mentioned as one of the possible contenders for the papacy.
A London-based Roman Catholic monthly newspaper Catholic Herald also named Cardinal Péter Erdő, the archbishop of Esztergom-Budapest in Hungary, as another candidate for the post.
On Wednesday, Tagle said such talks are untimely.
"The Holy Father is still strong and he announced that he will not resign even though he has difficulty walking. So the matter of who can succeed him is not timely," Tagle said in a television interview.
Last month, the 85-year-old Argentinian pontiff said the "door is open" for his retirement but also ruled out that he is stepping down anytime soon.
Pope Francis, then Archbishop of Buenos Aires whose real name is Jorge Mario Bergoglio, was elected by the conclave in March 2013, replacing Pope Benedict XVI who resigned due to health reasons. (PNA)