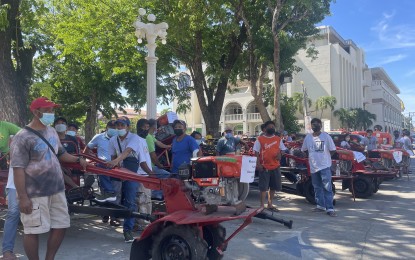 LAOAG CITY – Another batch of agricultural inputs worth P15 million and consisting of farm machinery, fertilizers, feeds, hybrid seeds and fingerlings was given to farmers and fisherfolk on Thursday.
Ma. Theresa Bacnat, officer-in-charge of the Provincial Agriculture Office, said the latest aid to farmers and fishermen came courtesy of the provincial government's "Agri Ka Dito" program, which invites all eligible farmers and fishers in the 21 towns and two cities of the province to submit their "wish list" to the concerned agriculture department.
"This is now the second batch of distribution and we hope to distribute more in the upcoming weeks," she said.
Launched last July, the "Agri Ka Dito" program is another flagship program of the Office of the Governor that aims to sustain the activities for the livelihood of community farmers and fisherfolk by providing them with immediate assistance in the midst of the skyrocketing cost of agriculture inputs.
Through open hotline numbers of the Provincial Agriculture Office and the Sustainable Development Center, Ilocano farmers and fisherfolk may request crop assistance in the form of inputs, marketing, and transportation; irrigation such as reservoirs, dams, and water impounding systems; provision of livestock and related services; fingerlings and fishery paraphernalia; and insurance.
With about PHP2 billion poured into the province's agriculture from July 2019 to January 2022, Governor Matthew Marcos Manotoc said the sector will always be prioritized, considering its key role in the economic recovery of Ilocos Norte in this time of crisis.
"To our farmers, we assure you of full-service assistance, from pre-planting to marketing, to produce more through technology and mechanization, and improve our irrigation. And to our fisherfolk at livestock growers, we pledge more support than ever," said Manotoc, as he reiterated his call for rice farmers to shift to high-value crops such as garlic, mango, dragon fruit, shallots, onions and tobacco, which are now more marketable than palay.
To further support the agriculture sector, a market matching activity with Chinese businessmen was held at the Sangguniang Panlalawigan session hall on Monday where the governor expressed his desire to prioritize product-processing and agri-business to capture more stages of the value chain.
The Chinese Enterprises Philippine Association Inc. pledged to collaborate with the provincial government on boosting farmers' productivity while expanding the market reach of their products. (PNA)