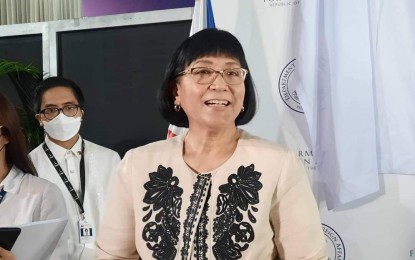 MANILA – The Department of Foreign Affairs (DFA) on Thursday expressed its support for Senator Francis Tolentino's move to institutionalize the term West Philippine Sea in a bid to strengthen the country's claim in the contested area.
In a press conference, DFA spokesperson Ma. Teresita Daza said any effort that strengthens the Philippines' case in the South China Sea, as long as pursuant to the United Nations Convention on the Law of the Sea (UNCLOS) and does not undermine the 2016 Arbitral Award "is something that can be considered and supported".
"The West Philippine Sea was already actually defined in 2012 through Administrative Order 29," she said.
"Nevertheless, the department recognizes what the process of legislation can do in terms of clarity and institution building. And we look forward to supporting the process, should we be invited to do so," she added.
Under Tolentino's Senate Bill No. 405, the maritime area -- including the air space, seabed, and subsoil -- on the western side of the Philippines is named the "West Philippine Sea" or "Kanlurang Dagat ng Pilipinas" as part of the country's "inherent right to designate the names of its maritime areas," and consistent with the 2016 Award of the Arbitral Tribunal of the Permanent Court of Arbitration.
It covers the Luzon Sea as well as the waters around, within, and adjacent to the Kalayaan Island Group and Scarborough Shoal.
Tolentino said the bill is in response to the archipelagic doctrine embodied under the UNCLOS, in which the Philippines is granted a territorial sea of up to 12 nautical miles, a contiguous zone of up to 24 nautical miles, and an exclusive economic zone of up to 200 nautical miles where the West Philippine Sea is located.
The proposed measure also directs government offices to use the term in all communications, messages, and public documents, and "to popularize the use of such name with the general public, both domestically and internationally." (PNA)