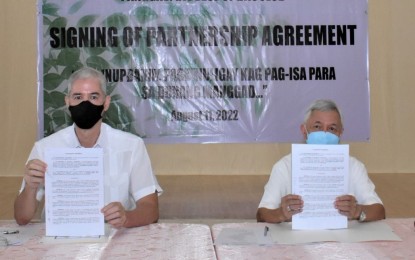 BACOLOD CITY – The Negros Occidental provincial government has partnered with the Diocese of Bacolod for a tree-growing project that will be carried out by students from various schools in the province.
The partnership was formalized in a memorandum of agreement signed by Governor Eugenio Jose Lacson and Bishop Patricio Buzon in rites held at the Capitol Social Hall here on Thursday.
Lacson said the signing of the partnership agreement is a welcome development for the environmental initiatives of the province.
"It is our commitment to strengthen sustainable development, empower communities, protect forests, and increase ecological awareness. The concern of our environment is a problem of global proportion but reducing its adverse impacts must be done locally," he added.
Lacson thanked the bishop for his response to Pope Francis' encyclical "Laudato Si (Praise Be), On the Care of Our Common Home".
The Diocese's Social Action Center, together with "Panggas", a multi-sectoral alliance of church, schools, governmental agencies, and sectoral organizations on environmental concerns, has identified various schools as participants in the tree-growing project.
These include the Colegio San Agustin-Bacolod, University of Negros Occidental-Recoletos, La Consolacion College, Carlos Hilado Memorial State University, St. Joseph School-La Salle, St. Scholastica's Academy, and St. Theresita's Academy.
The agreement provides that the Diocese of Bacolod will designate a point person and provide technical assistance for the program's implementation.
It will also assist the Provincial Environment Management Office (PEMO) in the institutionalization of the program and will assist the office in carrying out information, education, and communication initiatives.
The PEMO will assign technical personnel to coordinate with and assist partners on activities relating to the implementation of the joint project.
According to the agreement, there is an urgent need to protect and rehabilitate the whole environment of Negros Occidental, from the mountains, including forests and rivers, to the coastal and marine environments, following the environment principle of integrated protection and planning. (PNA)