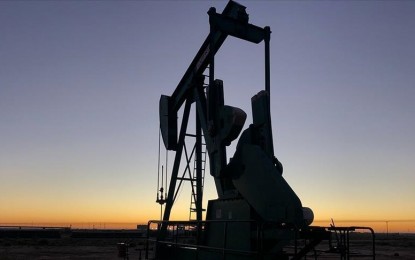 ANKARA – Oil prices showed volatility on Thursday over weak demand signals that eased supply concerns after oil flow through the southern branch of the Druzhba pipeline through Ukraine resumed, having halted on August 4.
International benchmark Brent crude traded at USD97.37 per barrel at 9:39 a.m. local time (0639 GMT) for a 0.03 percent decrease from the closing price of USD97.40 a barrel in the previous trading session.
American benchmark West Texas Intermediate (WTI) was at USD91.91 per barrel at the same time for a 0.02 percent drop after the previous session closed at USD91.93 a barrel.
The rise in US fuel stockpiles last week also provoked negative demand sentiment.
US commercial crude oil inventories increased by 5.5 million barrels to 432 million barrels, against the market expectation of a rise of 73,000 barrels, according to data released by the Energy Information Administration (EIA) on Wednesday.
However, gasoline inventories fell by five million barrels to 220.3 million barrels over the same period.
Helping to ease supply woes, Russia's pipeline monopoly Transneft announced plans on Wednesday to resume pumping oil at 16.00 Moscow time (1300 GMT).
The southern branch of the pipeline transports Russian oil to refineries in Hungary, Slovakia and Czechia.
It also passes through Belarus, Ukraine, Poland, Germany, Czechia, Slovakia, Hungary, Latvia and Lithuania. Ukrtransnafta owns the Ukrainian section, the transit of which is paid by Russia. (Anadolu)