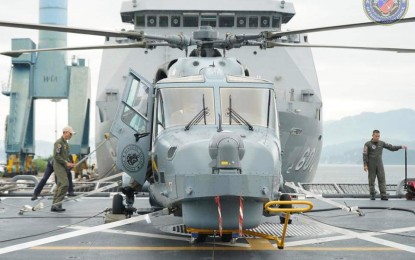 MANILA – The Philippine Navy (PN)'s first missile frigate, BRP Jose Rizal (FF-150), is now qualified to land and receive on its flight deck the AgustaWestland AW-159 "Wildcat" helicopter, which is the ship's partner in locating and hunting down hostile submarines.
"Traversing the path of fleet interoperability, Team FF-150 held deck landing qualification (DLQ) together with the ASW (anti-submarine warfare) 'Wildcat' Helicopter AW-159 (NH-441) last 09 August 2022," the ship said on its Facebook page Thursday night.
The DLQ is a part of a series of flight deck operations to further test and improve existing procedures, check connectivity, system integration, and leveling of officers, pilots, sailors, and aircrew on flight operations.
Before the actual deck landing, the ship's crew and flight crew of the anti-submarine helicopter squadron had a series of lectures and workshops to ensure the preparedness and safety of personnel and flight deck equipment.
"This activity marks the beginning of warfare interoperability operations between our air and surface assets which compliments the detection and engagement capability of both units," it added. The activity concluded safely with no casualties and any faults from both platforms.
"As our Navy gears towards development and modernization, we ensure that our personnel (are) aligned with this innovation to sustain and adapt to the fast and growing naval warfare technology and optimize our assets to their full capability," it added.
The PN's two AW-159 anti-submarine helicopters were delivered on May 7, 2019, and commissioned on June 17 of the same year.
The aircaft were acquired for PHP5.4 billion including its munition, mission essential equipment, and integrated logistic support.
They can also be armed with rockets, machine guns, missiles, torpedoes, and depth charges and fitted with modern sonar systems for tracking down submarines.
The AW-159s were acquired to complement the Jose Rizal-class frigates' ASW capabilities.
Meanwhile, the Naval Task Group (NTG) 80.5 conducted a "medical evacuation" (MEDEVAC) and "no radio drill' (NORDO) aboard BRP Antonio Luna (FF-151) while en route to Guam shortly after its month-long participation in the "Rim of the Pacific" (RIMPAC) last August 10.
The medical team facilitated the activity which involved the AugustWestland AW-109 helicopter as a platform for air transportation of the patient and the medical team.
The drill simulated the treatment and evacuation of a crew with a fractured leg.
As the ship immediately announced flight quarters for the helicopter pilots and crew to be ready and prepared for the air transportation, the medical team was administering first aid to the patient prior to the airlift to the nearest hospital.
During the NORDO, the AW-109 helicopter executed low pass flying and flashing of lights to indicate a signal for no radio communications while on air.
The ship also hoisted its flag to convey the intention received from the helicopter and the deck status during flight quarters.
The MEDEVAC and NORDO are among the drills regularly done aboard the naval ship to prepare the personnel in times of emergency situations, especially while underway. (PNA)