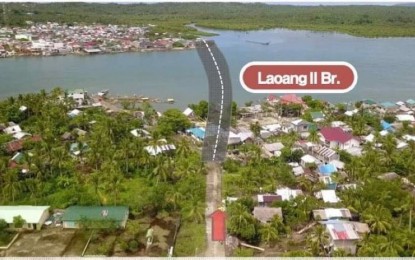 TACLOBAN CITY – The national government has approved the PHP6.6 billion multi-year Laoang bridges project in Northern Samar, the provincial government announced on Friday.
The provincial government thanked the central government for its commitment to fund the project to connect the town of Laoang to Samar mainland and its approval will mean its inclusion on the priority list for funding in the coming years, Governor Edwin Ongchuan said in a statement on Friday.
The high-impact projects will push through with the Korea International Cooperation Agency as a funding source, according to Department of Public Works and Highways (DPWH) 8 (Eastern Visayas) Director Allan Borromeo.
Based on the document obtained from DPWH, the project involves the construction of a 301-meter Laoang Bridge II linking the Samar mainland to the isolated Laoang town center.
Also included is the construction of the 772-meter road covering the gap to connect the Rawis-Talisay Road and the existing local road in Laoang town.
The Laoang Bridge II, with a length of 210.7 meters, will connect the villages of Calomotan in Laoang and Pangpang in Palapag town.
The project endorsed by the Regional Development Council middle of last year is expected to start in 2023 with the procurement process and the actual construction in 2024.
Dubbed the Samar Pacific Coastal Road Project Phase 2, it will connect Laoang to the Pacific Coastal towns and Northern Samar mainland and will reduce the travel time and propel development in the province.
Currently, residents and visitors have to take a boat ride to get to the town center from Samar mainland. (PNA)