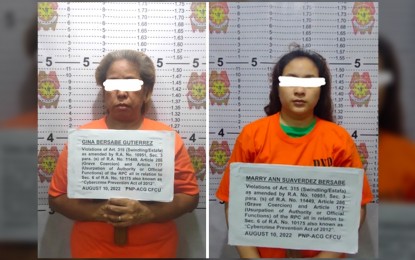 MANILA – The Philippine National Police-Anti Cybercrime Group (PNP-ACG) nabbed two women posing as its members in an operation in Marikina City on Thursday.
In a report on Friday, ACG chief Brig. Gen. Joel Doria, identified the suspects as Gina Gutierrez, 49, and Marry Ann Bersabe, 31, who were arrested by members of its Cyber Financial Crime Unit (CFCU).
The operation stemmed from the complaint of a victim, whose identity was withheld, who said he transacted for the purchase of an iPhone 13 Pro Max from a certain "Emerson Gerona Jr. Cabrera" via Facebook on an installment payment basis.
The victim then sent an initial down payment of PHP18,450.
Shortly after making the payment, the victim said the suspect blocked him on Facebook, prompting him to post a warning on the social media site.
He then received a message from a random Facebook page that gave him an e-mail address that could help him process the refund of his money.
When the victim sent an e-mail to the indicated address, he was instructed to pay PHP7,500 as a processing fee and was informed that he will be assisted by a PNP ACG personnel.
On August 9, the victim received a call from a purported member of the ACG who asked him to send a PHP4,500 processing fee.
The victim felt dubious and reported the scheme to the ACG.
After hearing the complaint, the CFCU launched an entrapment operation which led to the arrest of the suspects when they claimed the money from a remittance center.
Taken from the suspects were two cellphones, a money remittance transaction slip, four pieces of PHP1,000 bills, and a PHP500 bill.
They will be charged for swindling/estafa and usurpation of authority or official functions under the Cybercrime Prevention Act of 2012 and Access Devices Regulation Act of 1998.
"We will untiringly remind our netizens to exercise caution in their online engagements as cybercriminals constantly improve their online engagement as cybercriminals constantly improve their social engineering tactics to defraud unsuspecting victims online. Meanwhile, I commend our operatives for a job well done. Let me forewarn all would-be criminals that we will exhaust all our efforts to hunt you down and suffer the full force of the law," Doria said. (PNA)