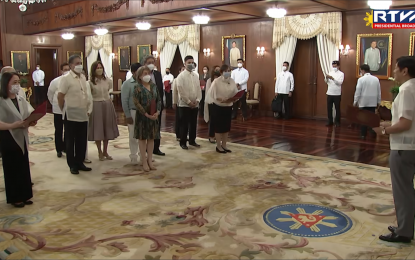 MANILA – President Ferdinand "Bongbong" Marcos Jr. has appointed former lawmaker Mylene Garcia-Albano as the country's new envoy to Japan.
In a Facebook post, state-run Radio Television Malacañang (RTVM) announced that Marcos administered the oath of office to Garcia-Albano as Philippine Ambassador to Japan.
RTVM also shared a short video clip of the oath-taking rites at Malacañan Palace's Reception Hall on Thursday.
Apart from Garcia-Albano, Marcos also led the oath-taking of Aileen Anunciacion Zosa as president and chief executive officer of the Bases Conversion and Development Authority (BCDA) and Olivia "Bong" Coo as commissioner of the Philippine Sports Commission (PSC).
"President Ferdinand R. Marcos Jr. administers the oath of office to three government officials in a ceremony at the Reception Hall in Malacañan Palace on August 11, 2022," RTVM said.
Garcia-Albano was a former representative of Davao City 2nd District, while Zosa served as BCDA executive vice president and chief operating officer before her new stint.
Coo's appointment, meanwhile, was first announced by Malacañang in July.
Coo was a five-time Asian games gold medalist, 14-time Asian champion and eight-time Southeast Asian games gold winner. She was also a member of the National and International Hall of Fame.
Norwegian envoy's farewell call
Also on Thursday, Marcos met with outgoing Norwegian Ambassador Bjørn Staurset Jahnsen at Malacañan Palace.
On his official Facebook page, Marcos shared photos of him with Jahnsen who paid a farewell call to him.
"We welcome Norwegian Ambassador Bjørn Staurset Jahnsen for a farewell call in Malacañang as he concludes his tour of duty in the Philippines. We commend Ambassador Jahnsen for his efforts to strengthen bilateral relations between the Philippines and Norway during his stint as envoy," Marcos said.
Marcos and Jahnsen also discussed climate change, the Bangsamoro peace process and Norway's plans to bring in more investments to the Philippines, particularly on renewable energy, RTVM said in a separate Facebook post.
Jahnsen was appointed as Norway's ambassador to the Philippines in 2018. (PNA)