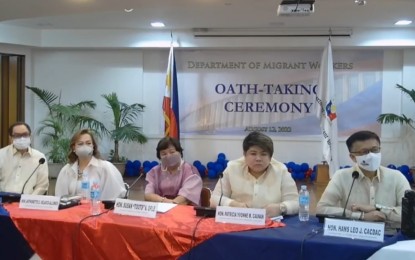 MANILA – Taiwan has approved an increase in salaries of newly-hired foreign workers, the Department of Migrant Workers (DMW) announced on Friday.
In a press conference, DMW Secretary Susan Ople said the country's labor attaches on the island reported that the wage hike will mainly benefit caregivers and domestic workers.
"The application of wage increase only covers new hires, transferred workers, and re-hired workers," she said.
These workers will now receive NTD20,000 (around PHP37,000) from NTD17,000 (around PHP31,000).
The announcement came from the Taiwan Ministry of Labor through its official website.
Out of a total of 147,940 OFWs on the island, 25,867 are working as domestic workers and caregivers.
"I hope that foreign household workers with existing contracts can also be granted a wage increase given their excellent and reliable service," Ople said.
Meanwhile, Ople reported that the 30 OFWs in areas on the island that are nearest to China are in good condition.
"Philippine Labor Attache David Des Dicang was able to speak to 30 OFWs (one teacher and 29 caretakers) out of the 49 Filipinos in Kinmen Island, which is just six kilometers away from Xiamen, mainland China and 300 kilometers away from Kaohsiung, Taiwan. They are all safe and under the care of their employers," she said.
Earlier this week, China wrapped up its military drills near the island in response to the controversial visit of US House Speaker Nancy Pelosi.
"Hopefully, this will ease tensions in the area. Still, I have instructed our three labor attaches in Taiwan to remain vigilant and visible to OFW communities, employers, and other stakeholders," Ople added. (PNA)