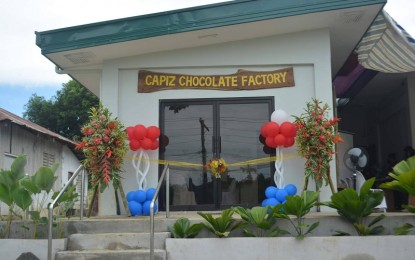 ILOILO CITY – Cacao production in Western Visayas gets the support of the Department of Trade and Industry (DTI) through the shared services facilities (SSF) project, a flagship program of the department to improve productivity and efficiency through the provision of better technology.
"Cacao has a very big potential, even in the international market they are putting premium on Philippine cacao. That is proven by our competitive ranking as against other cacao-producing countries," said DTI Western Visayas Regional Director Rebecca Rascon in an interview on Friday.
The latest that was launched was the PHP2.9 million SSF for Cacao Processing in Capiz with the Capiz Cacao Industry Association (CCIA) as a co-operator on June 20, 2022 in Barangay Cogon, in the municipality of Panit-an.
DTI provided the PHP1.9 million worth of equipment while the Department of Agriculture (DA) provided the PHP1 million building.
The Department of Science and Technology will also provide technical support.
The regional director said the equipment provided has already the capacity to produce chocolate although the SSF is not yet operational.
"It is intended to really produce from locally-grown cacao seeds some chocolates. It was launched for farmers to get encouraged to plant," she said.
The regional director added though that cacao trees owned by CCIA president Dr. Rose Marie Conlu are already in their fruiting stage and there are cooperatives around Capiz that started planting two years ago.
With the SSF, farmers have a ready market for their products and no longer have to worry about the pricing of their cacao products.
"Farmers will be part of the value chain, them being participants in the production function of the value chain," Rascon said.
Aside from Capiz, the DTI has provided an SSF for cacao to the New Lucena Panay Organic Producers Association (POPA) in New Lucena and San Lorenzo Farm in Dingle, all in Iloilo province.
In Antique their SSF was for the production of tablea but is geared towards the production of their brand of chocolate, Rascon added.
She said that with the provision of facilities, they are also empowering their cooperators with the help of DA to have an inventory of existing cacao trees in the area where they are situated to ensure the sustainability of raw materials.
"SSF when better managed can help continuously increase their sale that can help our micro, small and medium entrepreneurs," the regional director said. (PNA)