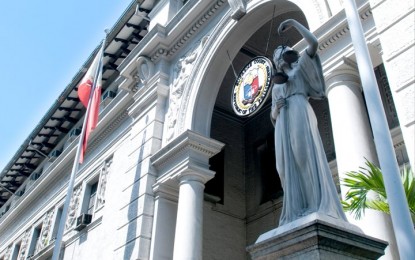 MANILA – The Supreme Court (CA) has cleared a former judge named in an administrative complaint filed by his own staff, who countered his investigation into alleged anomalies in his court.
In its decision published online on Wednesday, the high court dismissed the administrative complaint against former Cavite Regional Trial Court Branch 16 judge Rudiger Falcis II, court stenographer Consuelo Huertas, and process server Ariel Fernando.
"Rather than erode the people's esteem for the judiciary, their intention was to ensure the trust reposed by the people to the court. Certainly, their behavior cannot be characterized as scandalous or diminishing the respect of the court," the tribunal said.
Falcis, who resigned in 2017, was the subject of an administrative complaint from his former court workers after the magistrate furnished the SC with a sworn statement made by a detainee, Susana Tinoco, accusing the workers of corruption and anomalies.
At the time, Falcis was investigating the deliberate delay in the release of warrants of arrest of several accused.
The workers charged by Falcis were subsequently cleared after a judge assigned by the SC to investigate his complaint did not find substantial evidence to pursue the case.
They accused Falcis of perjury and grave misconduct when he went to the Cavite City Jail in April 2016 to persuade Tinoco to sign the affidavit against them.
The court noted that at least one of the complainants against the judge, court stenographer Cesar Calpo, was identified by Tinoco as the one who offered help regarding her case in exchange for money.
Calpo was subsequently dismissed from the service in 2019 after he had been found guilty in another case of grave misconduct and serious dishonesty when he deceived a litigant, Zenmond Duque, that he could get an annulment order and even falsified a decision from the court to make it appear he had fulfilled his end of the bargain.
In clearing Falcis, the high court said the former judge "acted in consonance with his duties and functions as a judge" and "merely ensured to uphold the dignity of the court when he recommended the conduct of an investigation to rule out anomalies within his jurisdiction."
The SC likewise admonished the workers for receiving food from Tinoco as any kind of gift from litigants is inappropriate. (PNA)