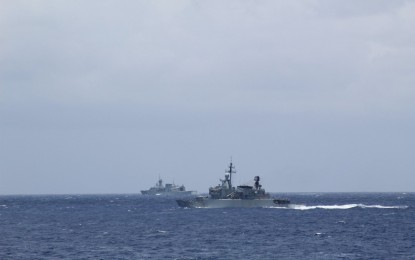 MANILA – The modernization efforts of the Armed Forces of the Philippines would allow for a stronger Philippine Navy that is ready and able to provide territorial defense and heightened operations in the West Philippine Sea (WPS) and its adjoining areas.
Emphasizing the naval force's importance in securing and preserving the Philippines' safety, sovereignty, and independence, Senator Francis Tolentino said Friday the Navy is the country's first defense against incursions on its shores.
He wrote in his broadsheet column that increasing the country's presence in the WPS requires heightened training and modern weapons that would boost the morale of the Navy.
"With the issues on maritime security in the West Philippine Sea and the encroachment against our sovereignty and sovereign rights, it is high time to give priority to the modernization of our Philippine Navy," Tolentino wrote.
He recalled how former president Rodrigo Duterte gave priority to modernizing the Philippine Navy and cited the Naval Operating Base (NOB) Subic, which has been up and running since May.
"The NOB Subic would serve as the Philippine Navy's main naval support and logistics hub, which would house our fleet marine units, such as the Jose Rizal-class missile frigates, Del Pilar-class offshore patrol ships, and the Tarlac-class landing docks," Tolentino said.
He also mentioned the recent launch of the new 12,000-hectare support facility and naval air detachment inside the Aurora Pacific Economic Zone and Freeport in Casiguran town.
During his first official visit to the Puerto Princesa, Palawan-based Western Command (Wescom) on July 14, Undersecretary Jose Faustino Jr., Department of National Defense officer in charge, assured the continuity of all infrastructure projects of the command under the "Tatag ng Imprastraktura para sa Kapayapaan at Seguridad" (TIKAS) Convergence Program and the Department of Public Works and Highways.
"We will prioritize mission-essential infrastructures in all Philippine-held islands in the Kalayaan Island Group and the West Philippine Sea," Faustino said.
He also reiterated the guidance of President Ferdinand Marcos Jr. to Wescom chief, Vice Admiral Alberto Carlos, and other ranking officials.
"We will ensure the smooth implementation of our modernization program in order to strengthen the protection of our sovereignty, defense of our territorial integrity, and ensure the continuity of our peaceful way of life. Indeed, the future will be so bright with us working in unity, manifested by our consistent and synergized actions," Faustino said during his visit. (PNA)