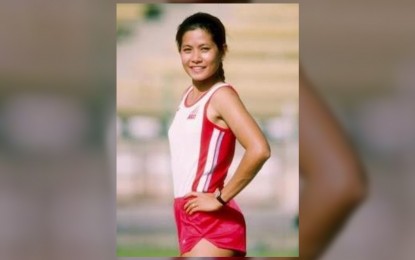 MANILA – The Philippine Athletics Track and Field Association (PATAFA) on Friday mourned the passing and feted the achievements of former Filipino sprint queen Lydia de Vega-Mercado.
PATAFA chairperson and Cagayan de Oro City Representative Rufus Rodriguez remembered de Vega-Mercado as Asia's fastest woman in the 1980s and 1990s, as she won multiple gold and bronze medals in the Asian Games, Southeast Asian Games and Asian Athletics Championship from 1981 to 1991, and represented the country in the 1984 and 1988 Summer Olympics.
Rodriguez noted that the sports legend last competed in October 1994 in the Manila-Fujian Games, where she won the 100-meter event.
"We have lost a great athlete who was once called Asia's fastest woman for ruling the 100- and 200-meter dash events. She did her country proud by bringing home multiple medals from competitions in the 1980s-1990s. A grateful nation is in grief," Rodriguez said in the statement.
"I had the privilege of cheering for her at the top of my voice in some of her international track events where she won gold medals, and stood proudly as our national anthem was played and the Philippine flag was raised as she stood victorious at the podium. I was then Region 10 PATAFA Director", he added.
He thanked the track and field star for bringing honor to the country, as he extended his deepest condolences to her family at this difficult time.
On behalf of PATAFA, he also expressed gratitude to "all the kind souls" who supported de Vega-Mercado while she was active in sports and in retirement.
De Vega-Mercado, 57, passed away on Wednesday evening, her daughter, Stephanie Mercado Koenigswarter announced in a Facebook post. (PNA)