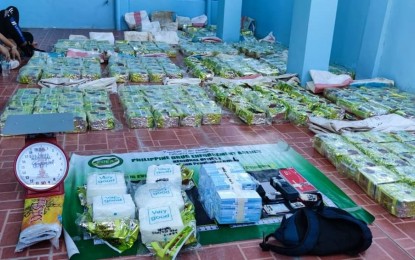 POZORRUBIO, Pangasinan – The Philippine Drug Enforcement Agency (PDEA) and other law enforcement agencies confiscated over PHP2.5 billion worth of suspected shabu from four individuals, one of them a Chinese national, in a buy-bust operation on Friday here.
Based on the initial information from PDEA, the arrested suspects were identified as Ke Wujia alias James Dagle, 40, residing at Agoo town, La Union; Jenson Rey Yago, 29; Ritchelle Rupuesto, 28; and Jhon Berth Jago, 22, all residents of Negros Occidental but temporarily residing in a subdivision in Barangay Banding in this town.
The buy-bust operation was initially for five kilos of shabu worth PHP5 million but operatives uncovered more blocks of suspected shabu bundled in 18 sacks marked with Chinese tea "Guanyiwang" in the suspects' residence.
Each shabu block weighed a kilogram.
In an interview on Friday, PDEA Director General Wilkins Villanueva said the recovered suspected shabu totaled around 360 kilos.
PDEA Deputy Director General for Operations Rodrigo Pimentel, in a separate interview, said the suspects got their supply by smuggling it by sea into the Philippines.
"Madali makuha yung mga supply dito kasi nasa dalampasigan lang ang Region 1 (It is easier to transport supply here since Region 1 (Ilocos Region) is a coastal area," he said.
The suspects would then repack the smuggled suspected shabu in Pozorrubio town, and send it to customers outside Pangasinan through a technique called dead-drop, he added.
Apparently, the suspects would purchase used cars and leave them at the designated area, with the suspected shabu inside the car, placed under blankets, and junk foods as cover. (PNA)