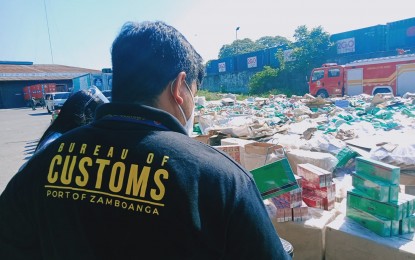 MANILA – Some PHP8.6 million worth of cigarettes were seized during multiple anti-smuggling operations headed by the Bureau of Customs-Port of Zamboanga (BOC-POZ).
In a news release on Saturday, Port District Collector Segundo Sigmundfreud Barte Jr. said five operations were conducted from July 25 to August 11 that resulted in the confiscation of 276 master cases and 327 reams of smuggled cigarettes.
Operating units conducted two apprehensions during seaborne patrols and three at customs checkpoints.
Philippine Drug Enforcement Agency operatives inspected the smuggled goods for the possible presence of illegal drugs.
The operations were done in coordination with the Philippine National Police 2nd Zamboanga City Mobile Force Company, Philippine Coast Guard Station Zamboanga, Philippine Navy, and Regional Special Operations Unit-9.
The BOC took custody of the vessels, vehicles, and master cases of cigarettes for proper disposition under Republic Act 10863 or the Customs Modernization and Tariff Act of 2016 and the tobacco exportation and importation rules and regulations. (PR)