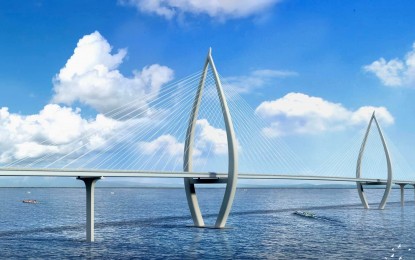 MANILA – The South Korean government will continue to support the country's infrastructure development projects through the Department of Public Works and Highways (DPWH).
DPWH Secretary Manuel Bonoan and Senior Undersecretary Emil Sadain met on Friday with officials of the Export-Import Bank of Korea (Korea Eximbank) Manila Representative Office, implementing agency of the Korean government's Economic Development Cooperation Fund (EDCF) Official Development Assistance (ODA) program in the Philippines, at the DPWH central office in Manila and discussed ways of further strengthening the cooperation between the two countries.
Jaejeong Moon, country director and chief representative of Eximbank-EDCF, expressed the Korean government's intent to further increase the concessional loan assistance to the country to fund development projects.
The EDCF provides assistance to DPWH-implemented flood control, roads and bridges and flood control projects managed by the Unified Project Management Office.

Sadain, in-charge of ODA-funded projects, said the three ongoing EDCF projects are the Samar Pacific Coastal Road Project in Northern Samar, Panguil Bay Bridge Project in Northern Mindanao, and Integrated Disaster Risk Reduction and Climate Change Adaptation Measures in the low-lying areas of Pampanga.
In May, the Philippine government secured loan from South Korea to cover funds for the engineering services for the PHP187.54 billion Panay-Guimaras-Negros Island Bridges Project, which involves two sea-crossing, four-lane bridges totaling 32.47 kilometers (kms), including connecting roads and interchanges, to link the three Western Visayas islands.
KEXIM-EDCF extended a loan of USD56.6 million for one of the big-ticket items under the Duterte administration's "Build, Build, Build" program.
The zero-interest loan with a 0.1 percent service charge per disbursement covers a maturity period of 40 years, inclusive of a 10-year grace period.
The EDCF also provided a grant for the recently completed feasibility study of the Samar Pacific Coastal Road Project Phase II, which aims to construct two bridges – Laoang II Bridge (360 meters) and Calomotan Bridge (630 meters), including the upgrading of the 12.5-kilometer existing road from Laoang-Palapag Road Junction to Catarman-Laoang Road Junction that will connect the island of Laoang to mainland Northern Samar.
Other Korea-funded ODA feasibility studies discussed during the meeting included the Philippines-Korea Project Preparation Facility for Lubao-Guagua-Sasmuan-Minalin-Santo Tomas Bypass Road (30 kms), Mount Kitanglad Range Belt Road (108 kms), Capas-Botolan Road (38.4 kms), and Lubao-Guagua-Sasmuan-Minalin-Santo Tomas Bypass Road. (With a report from Ferdinand Patinio/PR)