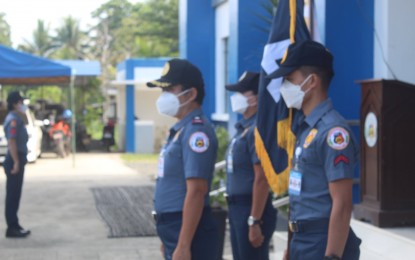 BUTUAN CITY – The Police Regional Office-Caraga Region (PRO-13) arrested two teen members of a notorious gang and one most wanted person in two-day operations last week.
In a report on Saturday, PRO-13 reported the arrest of Jobby Castillo Belandres, 35, the number one most wanted person in Zamboanga City.
Belandres, who is facing charges for five counts of rape, was arrested Wednesday in Barangay Doña Helen in Basilisa, Dinagat Islands.
The suspect has arrest warrants issued by the Regional Trial Court (RTC) Branch 15 in Zamboanga City for sexually abusing the three nieces of his live-in partner, aged 10, 12, and 17.
The crimes were committed in Barangay Pasonanca, Zamboanga City between May and December 2018.
On Thursday, Jerick Aguire and Jovel John Bonio, both 18, were nabbed here on the basis of standing arrest warrants issued by the RTC Branch 6 in Prosperidad town for robbery with violence or intimidation.
Aguire and Bonio are the top 8 and 9 most wanted persons, respectively, in Agusan del Sur and members of the Lera Criminal Group.
They are the prime suspects in a robbery in Barangay Alegria, San Francisco, Agusan del Sur on March 7, 2022, victimizing a 20-year-old woman.
"These gang groups engaging in violence and crime will certainly face the long arm of the law," Brig. Gen. Romeo Caramat Jr., PRO-13 Director, said in a statement. (PNA)