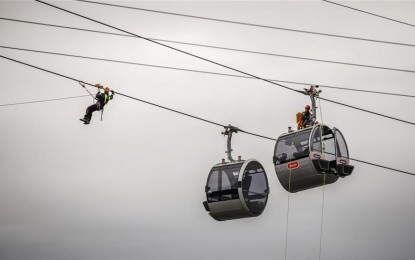 MANILA – The proposal of Senator Robinhood Padilla to use aerial cable cars as a solution to the traffic problems in Metro Manila was also suggested by the Department of Transportation (DOTr) under the previous administration.
In 2018, the DOTr said it was exploring the possibility of securing technical assistance or funding from the French government for a feasibility study on cable cars to provide an alternative mode of public transportation.
The proposal for the cable car system from the Light Rail Transit-2's Santolan Station in Marikina City to Barangay Rosario in Pasig City was endorsed to the National Economic and Development Authority.
"The cable car project will ease the traffic in the eastern side of Metro Manila as per studies of the DOTr," according to a statement released by Padilla's office on Sunday.
Padilla previously said he saw from his travels abroad how cable cars help move people around.
He also reiterated that he has not filed a bill about the creation of a cable car system but merely expressed a "spontaneous and impromptu manifestation" brought about by his knowledge and experience as a foreign traveler and as support to calls to improve the country's railway system. (PNA)