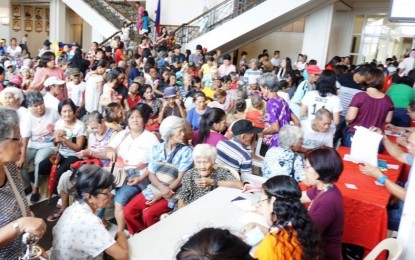 MANILA – Surigao del Sur Rep. Johnny Pimentel has asked Malacañang to include in the proposed 2023 national budget the extra PHP25 billion needed to pay for the PHP500 increase in the monthly pension of indigent senior citizens.
"We are hoping that the PHP25 billion will be factored into the budget bill that the Palace is scheduled to submit to Congress on August 22," Pimentel said in a news release on Sunday. "Government has no choice but to provide funds to pay for the pension increase."
"We have to augment the allowance of poor seniors so that they can meet their daily subsistence, including health maintenance needs, considering the soaring cost of food and other basic commodities," he added.
Pimentel said under Section 25 of the Constitution, "Congress may not increase the appropriations recommended by the President for the operation of the government as specified in the budget."
"Congress can cut the budget, but we can't increase it, so it would be better if the budget tendered to Congress already includes the additional PHP25 billion," Pimentel said.
The bill raising the monthly pension of indigent seniors from PHP500 to PHP1,000 earlier lapsed into a new law -- Republic Act No. 11916 -- without President Ferdinand Marcos Jr.'s signature.
Funding for the Social Pension Program for Indigent Senior Citizens (SPPISC) is lodged in the annual budget of the Department of Social Welfare and Development (DSWD).
The SPPISC has an allocation of PHP25 billion this year, which is enough to pay for the PHP500 monthly pension of 4.1 million indigent seniors identified by the DSWD.
The increase in the monthly pension to PHP1,000 means that another PHP25 billion would be needed.
The DSWD pays out the monthly pension based on three priority age groups, with the oldest seniors aged 80 years old and above getting first priority. Seniors aged 70 to 79 years old get second priority, while those aged 65 to 69 receive third priority. (PR)