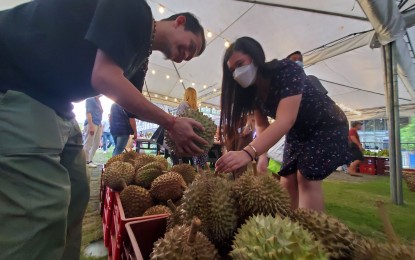 DAVAO CITY – The Department of Agriculture in Davao Region (DA-11) has urged durian growers to expand or plant more trees with focus on improved varieties as the market demand has skyrocketed, making the durian industry highly attractive for exporting countries.
In an interview on Saturday, Abel James Monteagudo, DA-11 regional director, said new durian varieties have recently evolved and discovered to be meatier and creamier.
"To all our durian growers there is this so-called bright future in durian production. I encourage you to expand or plant more durian trees and plant those improved varieties, venture into post-production, and rest assured that DA along with other partner agencies are here to help you establish market linkages," he said.
Monteagudo noted that from 2014 to 2021, the Philippines has always been in the Top 10 list of exporters of fresh durian in the global market.
Davao Region ranked seventh and is contributing 78 percent of the total durian production in the country, half of it is from this city.
"As more and more people become interested in this unique-tasting delicacy, This is why we need to take advantage of this rising global demand for fresh durian fruits," Monteagudo added.
DA-11, in partnership with the Department of Tourism, the Davao City Agriculturist's Office, the Durian Industry Association of Davao City (DIADC), and SM Lanang Premier opened on Friday the Kadayawan Durian Festival which will run from Aug. 12 to Sept. 12.
Monteagudo said the event that is being held as part of the Kadayawan Festival does not only showcase the city's bountiful fruits but also serves as a good venue for market linkages with local, national, and even international buyers.
"In the next few days, fresh durian fruits will surely flood our city. Harvest time is fast approaching. That is why we need to attract more buyers," he added.
Meanwhile, Emmanuel Belviz, president of the DIADC, said after being halted for two years due to the pandemic, the Kadayawan Festival is back.
"I am very happy and excited for this year's face-to-face celebration. Finally, it is a month-long activity that will promote and showcase the star of this season -- durian and other Davao fruits in season," he said.
Belviz noted that the people from Luzon and Visayas have learned to eat the unique durian fruit which has become popular not only popular in the Philippines but even abroad.
"That's why people from other parts of the country and the world are looking forward to this annual feast to be able to taste our bountiful fruits," he said. (PNA)