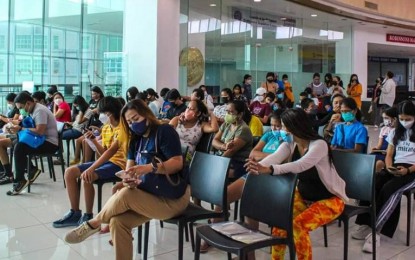 SAN JOSE DE BUENAVISTA, Antique – A total of 5,281 availed of coronavirus disease 2019 (Covid-19) vaccines in Antique last week under the "PinasLakas" campaign that continues to boost the country's fight against the pandemic.
Data gathered by the Integrated Provincial Health Office (IPHO) from August 4 to 11 said the vaccination drive was held in gyms, markets, schools, malls, and even far-flung communities.
The mobile inoculation activities will run in all venues possible until October 8.
"The strengthened Covid-19 vaccination campaign is in adherence with President Ferdinand Marcos Jr.'s directive so that the people could return back to their normal lives," Irene Dulduco, IPHO information officer, said in an interview Sunday.
The IPHO health team, composed of a doctor, three nurses, and an encoder visited the remote island village of Batbatan in Culasi town on Aug. 9 and 10 and vaccinated 546.
Due to its distance from the town proper, Dulduco said just about 400 out of the estimated 4,000 population were inoculated prior to the IPHO visit.
Only a Barangay Health Station serves the medical needs of the residents.
Other "PinasLakas" priority areas for senior citizens in the province are San Remigio, Caluya, Patnongon,Bugasong and Laua-an.
As of June, 30,649 of the 52,725 target elderly population, or about 58 percent, are already fully vaccinated.
The province has 209 active Covid-19 cases as of Saturday. (PNA)