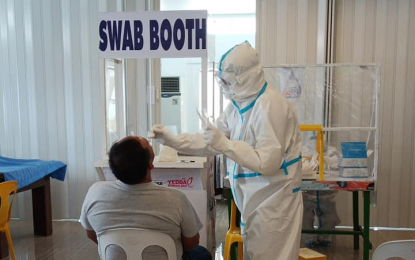 MANILA – The positivity rate or the number of individuals who tested positive for Covid-19 in the National Capital Region (NCR) has decreased to 16.4 percent, which indicates that cases in the NCR may have already peaked.
In a tweet on Sunday, OCTA Research Group fellow Dr. Guido David said Metro Manila's weekly positivity rate has decreased from 17.5 percent on Aug. 6 to 16.4 percent on Aug. 12.
"The NCR weekly positivity rate decreased to 16.4 percent as of Aug. 12 from 17.5 percent as of Aug. 6. This is the first time in the current wave the weekly positivity rate decreased, and it gives us optimism that cases in the NCR may have already peaked," David said.
He said they initially projected a peak around mid-July based on the experience in South Africa but noted that the wave got prolonged.
David attributed the country's "low booster uptake" as a possible reason why the wave has been prolonged.
The Marcos administration aims to administer at least 23 million Covid-19 booster shots within his first 100 days in office.
As of Aug. 13, the positivity rate is still at 18.4 percent nationwide, according to OCTA.
The country has a total Covid-19 caseload of 3,827,758, of which 40,324 are active infections, 3,726,442 are recoveries, and 60,992 are deaths.
Data from the Department of Health showed that more than 16.9 million individuals have received their first booster dose and around 1.7 million got their second booster shot as of Aug. 14.
The World Health Organization recommended that governments use a positivity rate of 5 percent or lower lasting for two weeks as a threshold for reopening. (PNA)