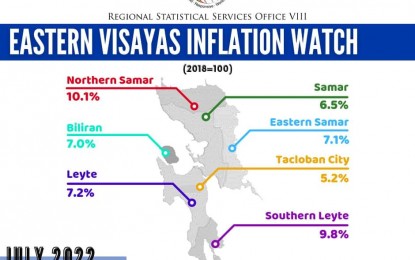 TACLOBAN CITY – Eastern Visayas recorded a 7.5 percent inflation rate in July 2022, the highest in the past four years, due to rising prices of food and non-alcoholic beverages, the Philippine Statistics Authority (PSA) reported on Monday.
The PSA continue to observe an uptrend in the region's inflation rate from just 6.8 percent in June 2022, and higher than the 6.4 percent national rate in July, said PSA Regional Director Wilma Perante in a phone interview.
"The main source of the upward trend of the July 2022 rate was the higher annual growth rate in the index for food and non-alcoholic beverages at eight percent, from 6.7 percent in the previous month. Housing, water, electricity, gas, and other fuels followed with 9.5 percent rate, from 8.4 percent in June 2022," Perante added.
Under the food group, there was an increase in inflation of rice at 2.9 percent; meat and other parts of slaughtered land animals at 24.4 percent; flour, pasta, cereals, bread and other bakery products at 7.2 percent.
Sugar, confectionery, and desserts surged to a double-digit rate of 11.6 percent in July 2022 from 7.4 percent in June 2022.
All the six provinces recorded higher inflation rates in July 2022. Among the provinces, Northern Samar posted the highest rate at 10.1 percent. Southern Leyte came next at 9.8 percent, followed by Leyte at 7.2 percent; Eastern Samar at 7.1 percent; and Biliran at 7.0 percent.
The lowest inflation rate was registered in Samar at 6.5 percent.
Tacloban, the lone highly urbanized city in the region, recorded an inflation of 5.2 percent in July 2022, lower than its 5.8 percent last June.
The 7.5 percent July inflation rate is the highest since November 2018, according to Perante.
Inflation rate is the annual rate of change or the year-on-year changes in consumer price index. It indicates how fast or how slow price changes over two time periods (year-on-year).
Contrary to common knowledge, Perante said low inflation does not necessarily mean that prices of commodities are decreasing. It means that prices continue to increase but at a slower rate.
The PSA came up with the data by establishing baseline information for the prices of the items in the base year (2018) and monitoring the prices of the items on a regular basis.
Data collection for the consumer price index is done by the PSA provincial twice monthly, except for petroleum products which are monitored every Friday. First collection phase is done during the first five days of the month while the second phase is on the 15th to 17th day of the month. (PNA)