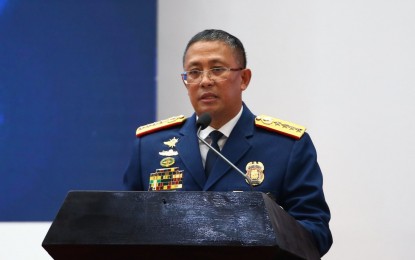 MANILA – Philippine National Police (PNP) chief, Gen. Rodolfo Azurin Jr., on Monday justified his order for the reshuffle of more than 80 ranking police officials, including the three top posts of the force's command group.
Azurin said the movement was for "career growth" and the designation of more seasoned senior officers.
"I think it's not the first time because during the time of no less than our guest si (former PNP chief and former Senator) Gen. (Panfilo) Lacson, minove pa nga niya (he moved) si Gen. Larry Mendoza noon (at that time). So it is not the first time that It happened. Ganun din nung time (also during the time of) ni Gen. Bato (Ronald Dela Rosa now a senator) wherein si General Magalong who was with DIDM (Directorate for Investigation and Detective Management) was elevated to DCO (deputy chief for operations ). Actually this is part of 'yung sinasabi ko rin (what I also said), I had my inaugural speech that we need to have a policy flexibility. Ibig sabihin kailangan ay pag-aralan natin (It means we need to study) what is best for the organization," Azurin told reporters after the flag ceremony.
Azurin named Lt. Gen. Jose Chiquito Malayo as the new deputy chief for administration, the PNP's second-highest official, replacing Lt. Gen. Rhodel Sermonia, who was reassigned as chief of the Area Police Command (APC) in the Visayas.
Azurin said the New People's Army (NPA) rebels were still progressive in some parts of Visayas such as Samar that is why he designated Sermonia.
"General Sermonia is well known as a good organizer, as a good advocate in organizing and mobilizing the community. And nakikita naman natin on record kung saan isa isa pinapatay ang ating pulis sa Samar (And we can see on record that they have been killing cops in Samar). So I think we need somebody there to organize and bring awareness to all the different barangays in the Visayas region, na pagtulong tulungan natin itong problema natin (that we need to help solve the problem against the) insurgency. So 'yun 'yung ( So that is the) reason that's why I requested siya mag (he conduct the) move," Azurin said.
Maj. Gen. Benjamin Santos, meanwhile, was named deputy chief for operations or the PNP's number three man.
He replaced Lt. Gen. Vicente Danao Jr. who was designated as head of the APC Western Mindanao; while Maj. Gen. Arthur Bisnar left his post as chief of the Directorate for Human Resource and Doctrine Development (DHRDD) to serve as chief of the directorial staff, the PNP's fourth top post, replacing Malayo.
"On the part of Vic (Danao) I told them we have problems right now because of the implementation of Bangsamoro Autonomous Region in Muslim Mindanao (BARMM) .'Yung mga (the) transition members last Friday took oath as members of parliament. So we need the competency and expertise ng ating mga kasamahan dito (of our senior officials there) unlike if they are only here," Azurin said.
Azurin said he was looking to hold a dialogue with the National Police Commission (Napolcom) to explain the recent reorganization of officials in various key positions.
Earlier, Napolcom issued a resolution that required the submission of a list of third-level officials before they are given any positions.
"We have to iron out 'yung (the) differences namin ng (with) Napolcom. And I respect that particular Napolcom memorandum circular," Azurin said.
Under the Napolcom memorandum circular 2019-001, it is stated that the Director for Personnel and Records Management must first cause the publication of vacant and soon-to-be-vacant positions as well as the list of eligible officers for those positions.
The publication said that "any officer who is not included in the said list may not be designated to any of the third level positions in the PNP."
"So we have to practice that's why we have to talk it out how we can best deliver the intention of Napolcom and the intention of the PNP so that we don't wait for what we want to happen in the PNP organization," he said.
Azurin said then Napolcom vice chairperson Rogelio Casurao allowed them to pass the documents later upon his request. He, however, died in January 2021. (PNA)