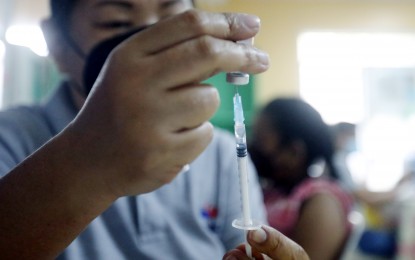 MANILA – Chief Justice Alexander G. Gesmundo on Monday urged the court's 3,200 workers to continue supporting the government's "PinasLakas" free booster vaccination against Covid-19 for themselves and their families.
"PinasLakas", which got going on July 26, is the nationwide booster vaccination campaign which mandates local government units to launch inoculation sites in schools, malls, plazas, and places of worship where people can just walk in to get their booster shots.
"To be sure, more than ever, we need a sense of oneness, a sense of nationhood, a sense of common good, for in the difficulties that lie ahead, we know that we cannot triumph individually. We can only prevail as a whole, as one nation dedicated towards a common goal, the public welfare," Gesmundo said during the flag-raising ceremony.
Undersecretary Maria Rosario Singh Vergeire, Department of Health (DOH) Officer-in-Charge, thanked the judiciary for joining the call to expand vaccination coverage.
Vergeire said in a previous interview that as of July, 96 percent of Supreme Court employees are already fully vaccinated with the primary series, 92 percent have had their first booster shots, and 51.2 percent have received second booster shots.
"Congratulations at maraming maraming salamat dahil ang Supreme Court ay dininig ang panawagan ng Kagawaran ng Kalusugan (and thank you to the Supreme Court for heeding the appeal of the DOH) and national government that we become models among all of our employees and offices to show that vaccines work and are safe and they are effective and being provided free by the government," she said.
As of the July 26 data of the DOH, a total of 15,975,337 Filipinos have been given the first booster shot while 1,232,816 individuals, belonging to the most vulnerable population (health care workers, senior citizens, and immunocompromised) have the second booster dose.
"With the help once again of the national and local governments, we have extended our vaccination and booster drives to not just our employees alone, but to their families and household members as well. Truly, our continuing coordination and cooperation with these two entities have proved vital to the fulfilment of our duties in this time of crisis," Gesmundo said. (PNA)