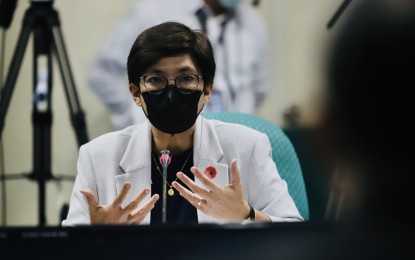 MANILA – The Department of Health (DOH) on Monday recommended to the Senate to make "primary care" a basic core of the Universal Health Care (UHC) Act
During a meeting on possible amendments to UHC or Republic Act 11223 conducted by the Committee on Health and Demography, Undersecretary Maria Rosario Vergeire, Officer-in-Charge of the Department of Health (DOH), said the agency is in constant coordination with the Philippine Health Insurance Corporation (PhilHealth) in implementing reforms in primary care.
"Mas konting suporta pa para dun para (More support for that, so that) we can have the primary care established ng maayos (properly), so we can decongest our higher-level facilities," Vergeire said, in response to Senator JV Ejercito's question on her suggested amendments.
Primary care includes health promotion, disease prevention, health maintenance, counseling, patient education, diagnosis, and treatment of acute and chronic illnesses by a personal physician who will coordinate with specialists if needed.
Vergeire also suggested to senators the review of several conditions concerning evaluations done by the Health Technology Assessment Council (HTAC).
The HTAC is an independent advisory body under the UHC Act with the overall role of providing guidance to the DOH and PhilHealth on the coverage of health interventions and technologies to be funded by the government.
The Council undertakes technology appraisals by determining their clinical and economic values in the Philippine health care system, according to its charter.
"Siguro para mas ma-streamline ang process natin (Maybe if we want to streamline our process), we can review again this specific provision under the law," Vergeire suggested.
Ejercito is pushing to amend the UHC Act to adjust the current premium contributions of PhilHealth amid the ongoing economic crisis, mostly caused by the Covid-19 pandemic.
The PhilHealth advisory in May stated that as prescribed in Section 10 of RA 11223, all direct contributors will now have a premium rate of 4 percent, with an income floor of PHP10,000 and income ceiling of PHP80,000.
The hike will rise to 4.5 percent in 2023 until it hits a 5 percent maximum rate by 2024 to 2025.
On the country's primary care facilities, Vergeire said the DOH has already established 3,259 rural health units (RHUs) and 7,796 Barangay Health Stations.
She also mentioned the establishment of polyclinics under the Health Facility Enhancement Program (HFEP).
"These are the super health centers with different equipment na (that is) higher level than RHU," Vergeire said.
The HFEP provides funds to improve facility preparedness for trauma and other emergencies and upgrade DOH-retained hospitals, provincial hospitals, district hospitals, and RHUs.
Ejercito said he is impressed with the specialty hospitals he had visited, like the Vicente Sotto Memorial Medical Center in Cebu City, Northern Mindanao Medical Center in Cagayan De Oro City, and Southern Philippines Medical Center in Davao City.
"Like sa (in) Northern Mindanao Medical Center, they have conducted open heart surgery already and soon, hopefully, kidney and liver transplant na hindi na kailangan pa ipadala rito (that [the patient] does not need to be sent here [in Metro Manila]. So, congratulations sa (to) DOH for this effort," he said.
Ejercito likewise praised Vergeire for the satisfactory implementation of the law despite the setbacks brought by the pandemic.
"I would like to congratulate, thank you. Kayo po 'yung naging (You became the) face ng (of) DOH lalo na nitong krisis (especially during this crisis). You're very capable and we are hoping to continuously work with you," Ejercito said. (PNA)