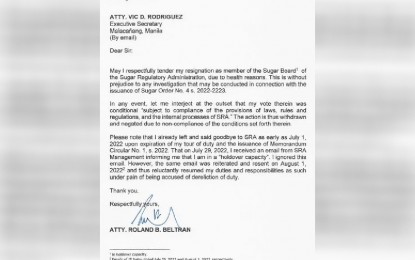 MANILA – Sugar Regulatory Administration (SRA) board member Roland Beltran, one of the four signatories of the supposed resolution for the importation of 300,000 metric tons of additional sugar, resigned amid the investigation on the controversial Sugar Order (SO) No. 4.
In his resignation letter to Executive Secretary Vic Rodriguez, dated Aug. 14, 2022, Beltran said his move was "without prejudice to any investigation."
"May I respectfully tender my resignation as a member of the Sugar Board of the Sugar Regulatory Administration, due to health reasons. This is without prejudice to any investigation that may be conducted in connection with the issuance of Sugar Order (SO) No. 4," he said.
In the same letter, the millers' representative also expressed the withdrawal of his "conditional vote," considering what he called the "non-compliance" of the provisions of laws and regulations of the SRA, pertaining to SO 4.
Beltran, however, clarified that he left the SRA last July 1, following the issuance of Memorandum Order No. 1, series of 2022, upon the expiration of his post, although "reluctantly" continued his functions after being informed that he's in a "holdover capacity".
"That on July 29, 2022, I received an email from SRA Management informing me that I am in a holdover capacity. I ignored this email, however, the same email was reiterated and resent on August 1, 2022, and thus reluctantly resumed my duties and responsibilities as such under pain of being accused of dereliction of duty," he added.
Last Thursday, the Department of Agriculture chief of staff and Undersecretary for Operations Leocadio Sebastian tendered his resignation to President and Agriculture Secretary Ferdinand Marcos Jr., following the sugar importation fiasco.
"I sincerely offer my apologies, your Excellency, for having approved Sugar Order No. 4 on your behalf, and through the authority, you had vested upon me. It has become clear that the same was not in keeping with your administration's desired direction for the sugar industry," he said in his letter.
SO 4 was earlier called "illegal and unauthorized" by the palace, as it was rejected by the President, considering the administration's thrust to fulfill a "balancing act" of securing affordable and adequate supply for the consumers, as well as benefiting the local producers.
The DA, meanwhile, assured that there is an ongoing investigation and that they are already in close coordination with sugar millers to ensure the improvement of the sugar supply in the country. (PNA)