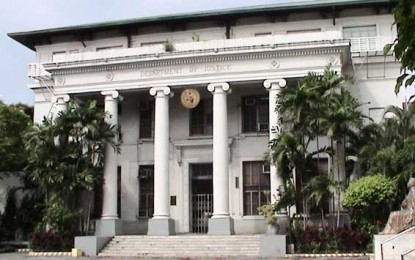 MANILA – The Department of Justice (DOJ) on Monday announced the filing of criminal charges against 16 individuals who were part of a conspiracy to divert money from foreign sources to local non-governmental organizations (NGOs) used as fronts by the Communist Party of the Philippines-New People's Army (CPP-NPA) and its allied groups.
The DOJ said it found probable cause to indict Emma Teresita Cupin, Susan Dejolde, Ma. Fatima Napoles Somogod, Augustina Juntilla, Maryjane Caspillo, Melissa Comiso, Czarina Golda Selim Musni, Maridel Solomon Fano, Jhona Ignilan Stokes, Hanelyn Caibigan Cespedes, Angelie Magdua, Emilio Gabales, Mary Louise Dumas, Aileen Villarosa, Evelyn Naguio and Aldeen Yañez for "making available funds to the CPP-NPA."
In a statement, the DOJ said Musni, Fano, Dumas, and Villarosa are members of the CPP-NPA and were made payees in several checks issued under the name of Rural Missionaries of the Philippines and Rural Missionaries of the Philippines - Northern Mindanao Region (RMP-NMR).
The DOJ said that on the basis of the sworn statements of two former members of the CPP-NPA, the Anti-Money Laundering Council (AMLC) inquired into RMP/RMP-NMR's bank accounts.
One of the two witnesses used to be the finance officer of various CPP-NPA NGO fronts, including RMP.
According to the witness, the RMP sends project proposals to foreign funders. Once approved, the money will be diverted to communist terrorist groups.
Cespedes and Magdua, acting as cashiers and upon orders of Gabales, distributed funds; Cespedes provided 60 percent to Fano by issuing checks; and in turn, Fano sent funds to Yañez, who is a CPP-NPA officer.
Cupin, Dejolde, Comiso, Caspillo, and Juntilla are members of the RMP board of trustees and hold general supervision and control over the group's operations, the DOJ said.
The AMLC earlier directed the bank to freeze the RMP accounts for 20 days, which the Court of Appeals extended to six months.
The CPP-NPA is listed as a terrorist organization by the United States, European Union, the United Kingdom, Australia, Canada, New Zealand, and the Philippines.
The Anti-Terrorism Council also formally designated the National Democratic Front as a terrorist organization on June 23, 2021, citing it as "an integral and inseparable part" of the CPP-NPA that was created in April 1973. (PNA)